Wildfire preparation plans are essential for helping staff at schools, hospitals, and other commercial buildings prepare for smoke intrusion and other complications that may arise from wildland fires, but they often fall short on covering something that can be just as critical: power outages.
Last year's fire season in California provided real-life examples of the tremendous impact an extended power loss can deliver to communities. A major take-away was that power blackouts can occur as a precaution during heavy winds, even when there are no fires nearby and the threat doesn't seem to exist. Many people and businesses were not adequately prepared for what happened when electricity from the public utility stopped flowing, even though there were advance warnings from the power companies.
In this article, you'll find lessons learned from last year's wildfire season and tactics you can use to get better prepared for next season. If your property isn't in California, you're not exempt from concern. This topic also matters to anyone responsible for the safety of building occupants in Oregon, Washington, and other areas of the country where  wildfire is a threat.
PG&E Intensified Fire Prevention Protocols
Still reeling from the devastating financial consequences of the Camp Fire, Pacific Gas and Electric (PG&E) intensified the "de-energization" strategy termed Public Safety Power Shutoffs (PSPS) to prevent their equipment from sparking wildfires during high-risk periods, and other California utilities followed PG&E's lead.
Those pre-planned power outages left millions of Californians without electricity, virtually immobilized the transportation grids in affected areas, and posed problems many wildfire preparation strategies weren't prepared to handle.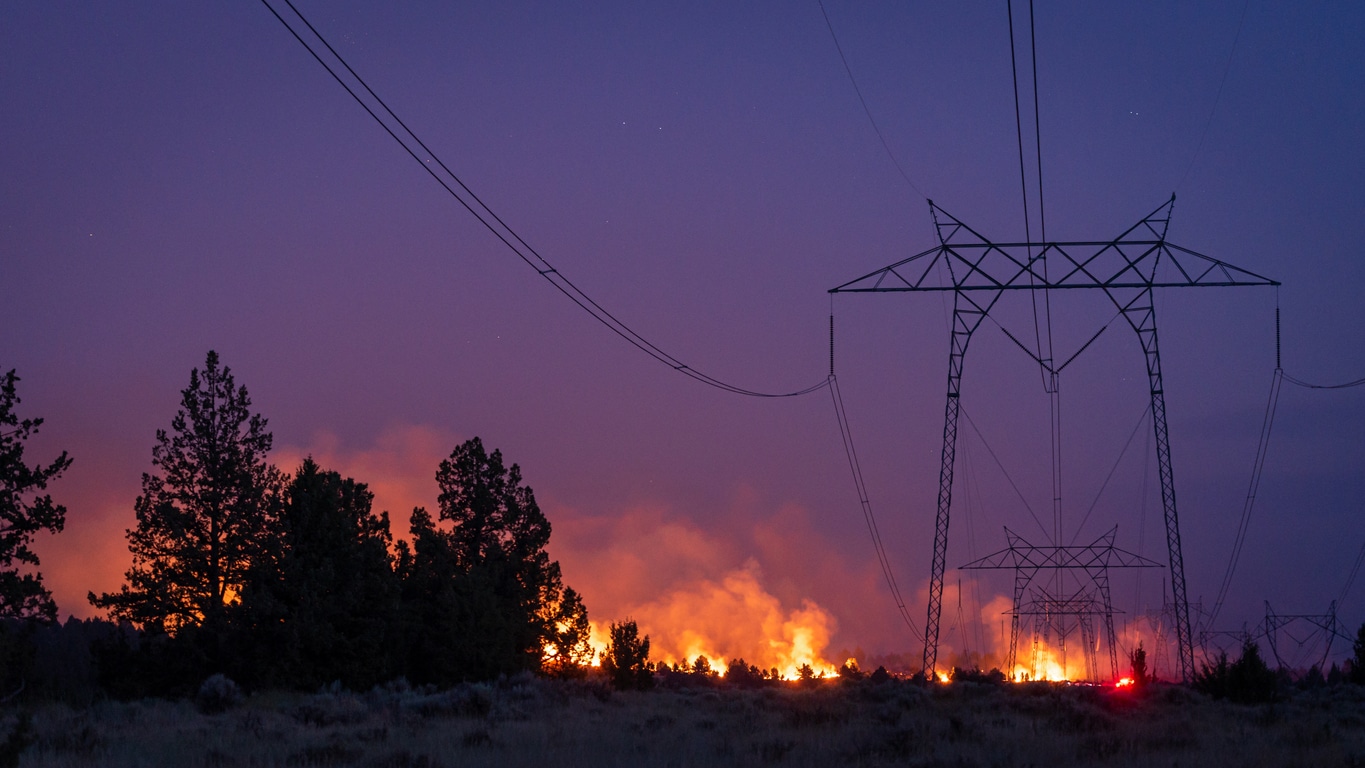 Effects of PSPS on Businesses in Affected Areas
Estimates on how many California residents lost power as the result of a Public Safety Power Shutoff in 2019 (a relatively mild fire season) vary, but hundreds of thousands of homes and businesses were affected — not just once, but several times.
Worse yet, dealing with planned blackouts is something those in fire-prone areas should plan on getting used to, according to the CEO of PG&E. He told the state's energy regulators the shutoffs will necessarily continue for at least another ten years.
How did the shutoffs impact California communities?
This report from Grass Valley is similar to many others from around the state:
The blackouts shuttered small businesses for days, leaving owners without revenue and employees with diminished paychecks. Thousands of residents also lost water, while even more saw their internet and cell phone coverage evaporate. This communication collapse only made things worse as people scrambled to take care of isolated seniors and the sick and disabled who rely on power for their medical equipment. Some schools in the county reportedly lost nine days of class time.
Many California residents blame PG&E for the problems. California public utility officials have opened a probe into the situation and suggested new guidelines to lessen the impact. Some have even suggested that the state should take over the operation of PG&E, but no quick and easy solution has been proposed, nor is it likely that one will soon be found.
One thing is certain: When the fuel is dry and the power lines are energized, the possibility for another Camp Fire is present — and nobody wants to see that happen again.
Utilities in other states are also taking proactive measures. Pacific Power and Light, for instance, recently posted an announcement on their website to advise their customers of PSPS possibilities:
A Public Safety Power Shutoff is a new measure designed to help keep people and communities in high-risk areas safe, by proactively shutting off power during extreme and dangerous weather conditions that can result in catastrophic wildfires … As part of this effort, Pacific Power is working with local emergency services agencies, the Oregon Department of Forestry, and community leaders across Oregon, Washington and California to expand and enhance existing emergency response plans and work in coordination with our communities.
Given that there's little a building owner or facilities manager can do about the severity of the next fire season or the actions utility companies will take to keep their equipment from sparking another fire, how should wildfire protection plans be adjusted to take the likelihood of PSPS blackouts into consideration?
Common Concerns for PSPS Preparation
In a way, it's not so much that a power outage is possible — standard checklists can help with that. It's that power outages in wildfire high-risk areas can be expected. It's no longer a matter of what to do IF you lose power, but what to do WHEN you lose power.
That means you'll need more supplies and better preparation.
Examples of steps to take before a PSPS outage
Safety always comes first. Check your wildfire strategic plan to make sure the smoke intrusion and evacuation instructions are sufficient and up-to-date.
Prepare extra emergency supply kits. You may need to draw on the contents more than once, and it may be difficult or impossible to replace items after a series of PSPS events begin.
Make sure your facility has a sufficient number of back-up power generators. They are among the first items to sell out when power troubles begin. Train staff on how to maintain and use them. Make sure your wildfire preparation strategy includes a detailed plan on internal power generation and what it will be used for.
Determine which features in your building will be affected by a power outage (lights, elevators, etc.), then plan an alternative way to either operate the features manually, go without them, or circumvent their loss via another method. Examples are routing traffic to stairs (make sure you have proper signage) and installing emergency lighting in strategic areas.
Check your stock of batteries and generator fuel. When PSPS blackouts increase, you'll want to have enough on hand to last long enough to carry you through the times when replenishments are difficult or impossible to get.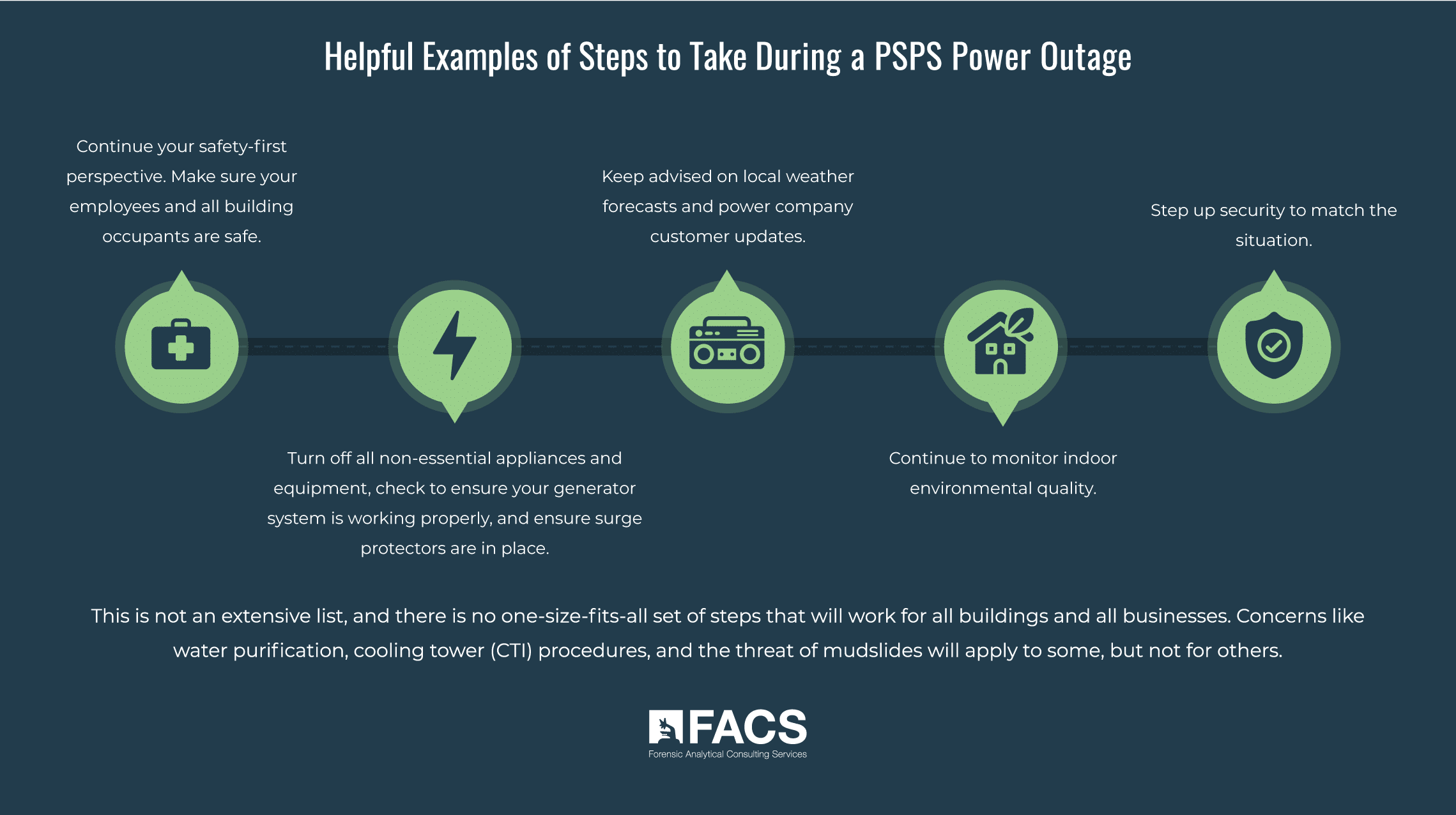 Examples of steps to take during a PSPS power outage
Continue your safety-first perspective. Make sure your employees and all building occupants are safe and know you are taking steps to deal with the situation.
Turn off all non-essential appliances and equipment, then check to ensure your generator system is working properly. Make sure surge protectors are in place as needed.
Keep advised on local weather forecasts and power company customer updates to help inform your decisions about next actions and how your business or building will be impacted.
Continue to monitor indoor environmental quality. Confirm the operational condition of the air filtering system in your building. Make backup plans for ventilation and cooling.
Step up security to match the situation. With security systems and/or communication lines compromised, security concerns increase.
That's not an extensive list, because there is no one-size-fits-all set of steps that will work for all buildings and all businesses. Concerns like water purification, cooling tower (CTI) procedures, and the threat of mudslides will apply to some, but not for others. There are many variables that must be taken into account.
If you're convinced the threat is real, get started NOW with a review of your current wildfire preparation and comprehensive emergency preparedness plans. Make sure your strategies recognize and address the very real possibility of recurrent PSPS power blackouts when conditions warrant.
How to Get Help With Your Wildfire Preparation Planning
Pre-planning is critical. Don't put it off until fire season is underway and power outages are looming. Some things are too important for hesitation, this is one of them.
Here are some of the ways FACS can help you reduce stress, get well-prepared, and avoid many of the headaches suffered by those who fail to plan:
If you already have a wildfire preparation plan in place, FACS can help you review and update that plan as needed. You can also get assistance with educating staff on how to carry out your strategy effectively and efficiently.
If you've yet to develop a wildfire preparation plan, FACS can guide you through the process by providing templates, advice, and as much hands-on help as you need. Remember, don't assume you're exempt from concern just because your facility isn't located in California. If wildfire is a threat, get prepared.
The best advice anyone can offer on the topic of emergency preparedness is to get ready now. Once wildfire emergencies are underway, the resources, supplies, and equipment you need will be harder to obtain and may not be available at all.
You can contact FACS by calling 888-711-9998 or by using the online Contact form. Wildfire season won't wait, and you shouldn't either.
###