Are you prepared for a wildfire smoke emergency?
If you're a California employer, monitoring air quality and taking action to protect the health of your employees against high levels of fine particulate matter (PM2.5) during wildfires is no longer an option. You're now required by law to take certain actions, unless you qualify for an exemption (see below).
If you're not a California employer, this information is still pertinent and valuable. The time invested in preparation now can save you huge headaches in the future.
Here's the news:
The California Occupational Safety and Health Standards Board used an emergency action filing to address the danger that fine particulate matter poses to worker safety — particularly those working outdoors — during wildfire events.
The Protection from Wildfire Smoke mandate (under the California Code of Regulations, Title 8, Division 1, Chapter 4, of the General Industry Safety Orders) provides expanded protection for California workers when the Air Quality Index (AQI) for PM2.5 reaches or exceeds 151.
There are exceptions to the rule, but don't assume your operation won't be affected. Check the criteria below. If you fail to get ready in advance of a wildfire smoke event, this new ruling could create downtime, result in lost revenue, and even draw penalties for noncompliance.
In this article, we'll briefly discuss the new regulation and provide comments from a FACS wildfire, fire, and smoke assessment expert to help guide the wildfire preparation strategy for your business.
What is PM2.5 and Why Does It Matter?
PM 2.5 particulate matter (particle pollution) consists of solids and liquids particles are 2.5 micrometers or smaller in diameter.
For reference, fine beach sand is about 90 micrometers wide and human hair typically ranges from 50-70 micrometers. It's difficult to imagine something as small as PM2.5 and maybe even tougher to understand how a pollutant that tiny could create a health hazard so severe that it requires an emergency ruling.
Here's why PM2.5 is a real concern:
Those microscopic particulates are small enough to penetrate deeply into your lungs when inhaled and even be absorbed into your bloodstream. Potential health consequences include impaired lung function, chronic bronchitis, heart disease, and lung cancer.
Children, the elderly, and anyone who already has heart or lung problems are especially vulnerable to PM2.5 over-exposure.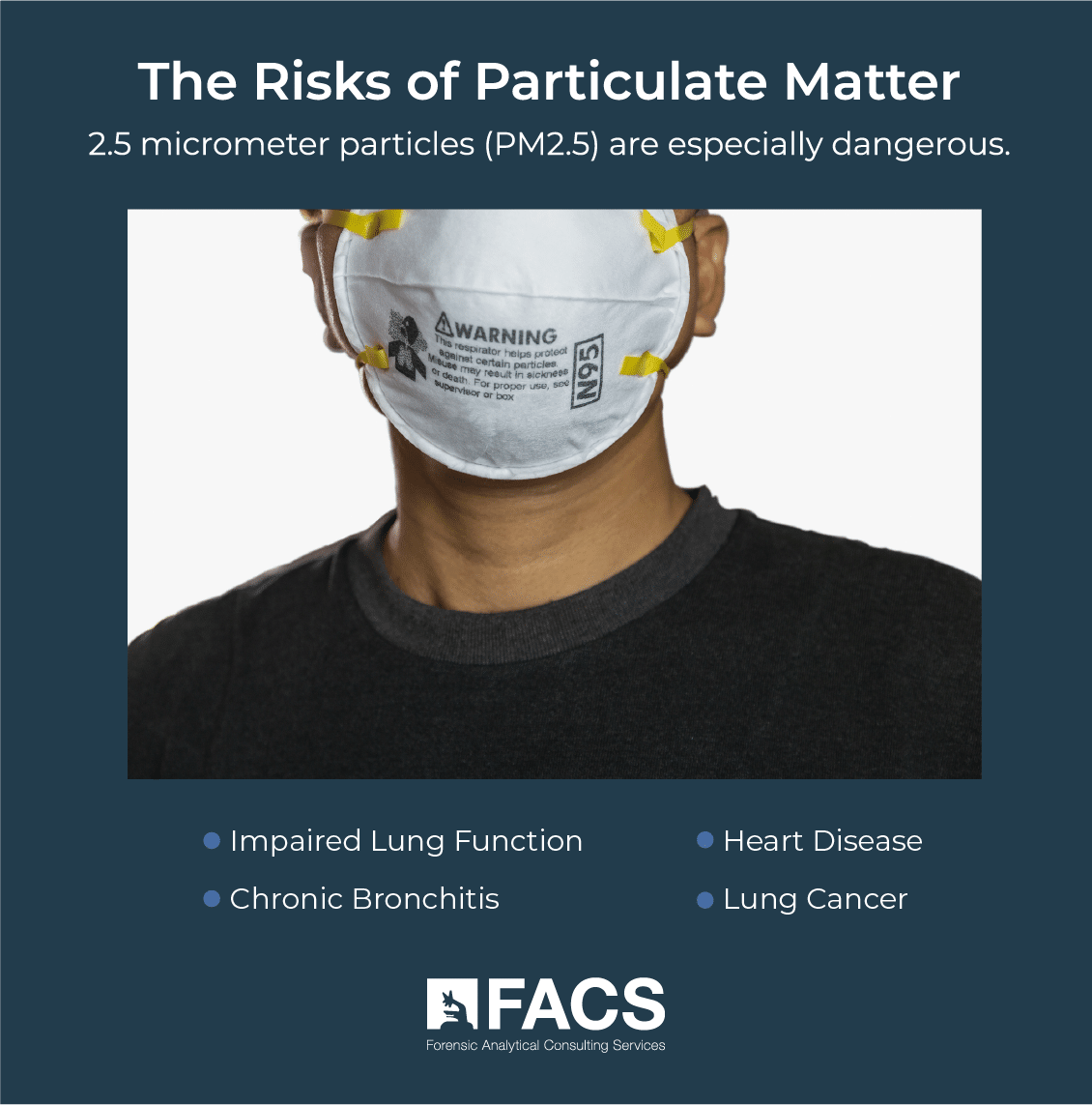 How Does the Protection from Wildfire Smoke Regulation Affect My Business?
Here are the major components of the Protection from Wildfire Smoke emergency regulation:
Operations covered under the rule: The rule is activated when the current AQI for PM2.5 is 151 or greater (regardless of the total AQI or the rating for other pollutants) at workplaces where the employer should have anticipated the possibility that wildfire smoke could present an air quality hazard for exposed employees.
NOTE: AQI scales run from 0 to 500. They provide an indication of the potential health impact of the pollutant under consideration, but they aren't a count of anything. An AQI number of 151 indicates the air quality is unhealthy (see the chart below), so 151 is the point (measured for PM2.5) where the emergency rule takes effect.
Operations exempt from the rule: Enclosed buildings and vehicles where the air is sufficiently filtered for ventilation and there are no openings for infiltration from outside air, or workplaces where the duration of exposure is one hour or less per shift are exempt from the rule. Employees engaged in wildland firefighting are also exempt.
NOTE: It is expected that most businesses will pull AQI numbers from a third party (AirNow.gov, for instance) or a local air pollution control district. While those numbers will satisfy the wildfire emergency rule, they may not be accurate for your worksite. FACS suggests utilizing a direct-reading particulate monitor onsite. Having a monitor that will provide data for your specific site may demonstrate an AQI for PM2.5 lower than 151 for your employees, therefore, making you exempt from the rule (even if other reporting stations are providing a different number).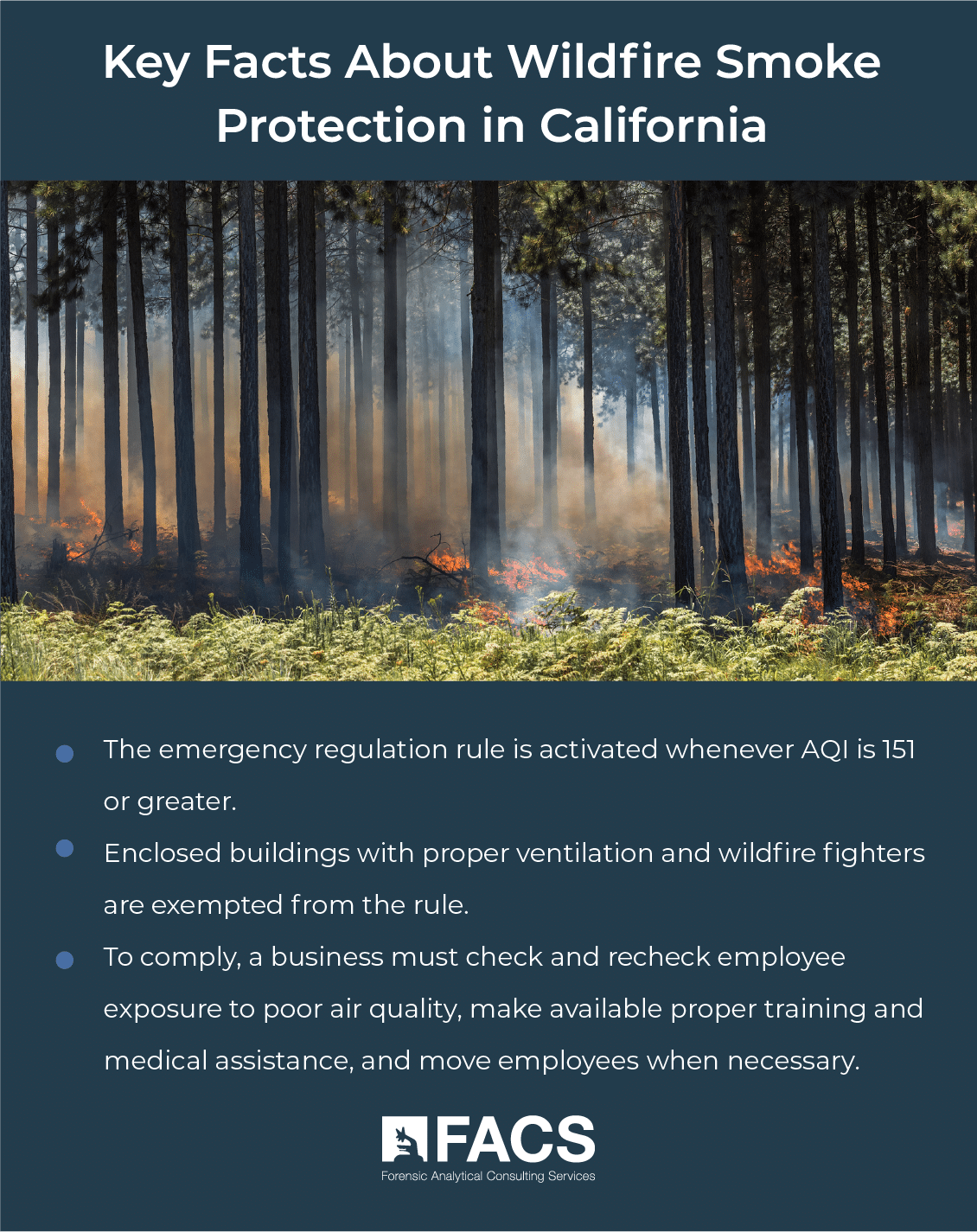 What must a business do to comply? The wildfire smoke emergency rule requires employers to determine employee exposure to PM2.5 before each shift and to recheck, as conditions indicate, during the shift. When the AQI for PM2.5 reaches 151, the employer must either move workers to an area where the scale number is less than 151 or provide them with acceptable respirators (N95 or better) and encourage employees to  use them.
Employers must also train employees on the dangers of wildfire smoke inhalation and the proper use of respirators. Employees should also be invited to speak up when they believe the air quality is not adequate, to report any adverse symptoms they experience, and to seek medical treatment, without reprisal, as needed. When AQI levels for PM2.5 reach 501, respirator use moves from a recommendation to a requirement by the standard.
NOTE: Remember, this wildfire smoke protection emergency requirements hinge entirely on the AQI for PM2.5 — not total AQI or AQI for any other pollutant listed (e.g., ozone or carbon monoxide). This is crucial information.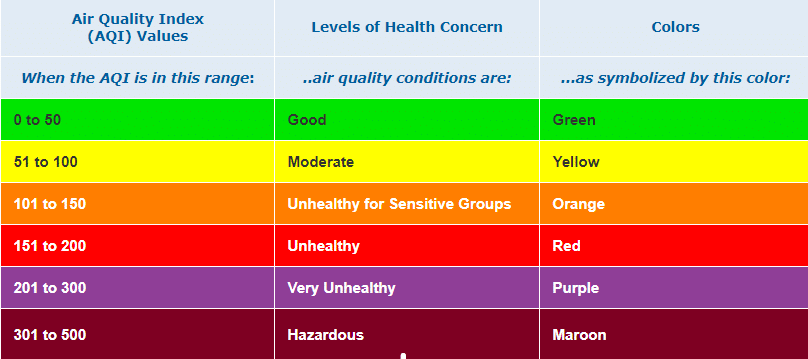 California Protection from Wildfire Smoke: Business Preparation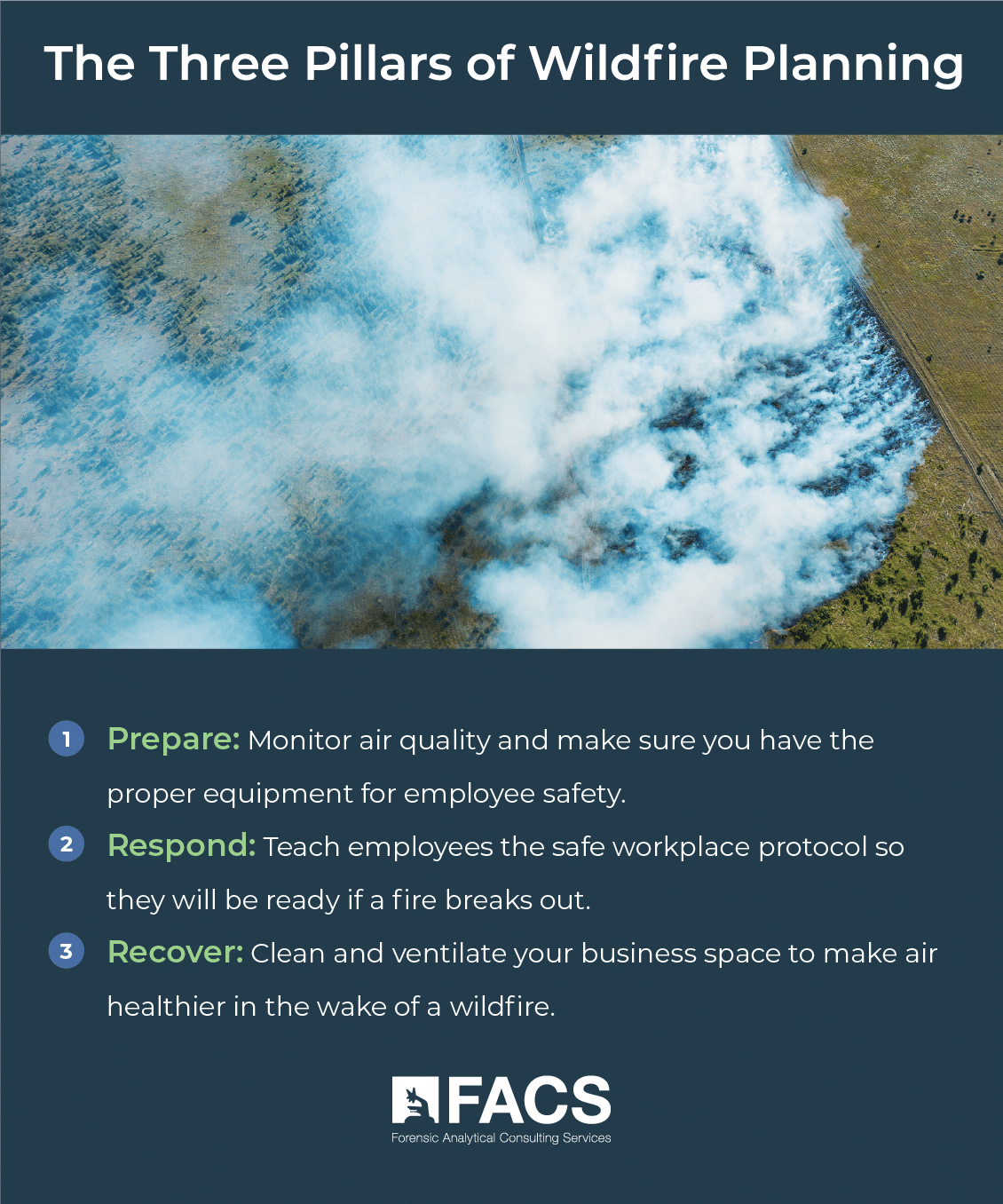 FACS recently launched a service to help businesses prepare for, respond to, and recover from wildfire events. This new wildfire smoke regulation dovetails perfectly into that system, and the components — prepare, respond, and recover — cover all the bases.
California businesses can use those same groupings in their reaction to the Protection from Wildfire Smoke emergency ruling:
Prepare by knowing what is expected of you and how to monitor air quality for PM2.5. Install a particulate monitor and use it. Gather enough approved respirators to cover the potential needs of your employees. And don't forget to prepare your training criteria. FACS can help with all of these.
Respond by accurately monitoring the concentration of PM2.5 pollution at your workplace and instructing employees on the safe workplace protocol that will trigger when the AQI number for PM2.5 reaches 151 or higher.
Recover by continuing to monitor air quality for PM2.5 and going back to normal operation when the air quality number reaches an acceptable level and is expected to remain there or keep dropping. Properly clean and store all respirators. Check to be sure your employees are okay, then provide any cleaning services or ventilation efforts needed to make the air healthier.
FACS recommends all businesses in areas where wildfire smoke may reasonably be expected — whether located in California or not — include a wildfire smoke monitoring and response section in their current wildfire protection plan.
If your operation doesn't have a current strategic plan for threats from wildfire, call FACS at (888) 711-9998 for information on how to get started.
None of us know when or where the next wildfire will start or how far it will spread. Ask residents of cities like Paradise, Concow, Santa Rosa, and Gatlinburg — all have seen wildfires push into their cities over the past decade.
It's important to realize that avoiding the flames doesn't mean you are exempt from the consequences. Wind currents can carry the smoke to cities hundreds of miles beyond the fire scene, and the toll on the health of unprotected workers can be tremendous.
When you develop a strategic plan for wildfire emergencies and train your employees on how and why it's important, you're demonstrating that you care about their health and workplace safety.
###
Images  Cited:
"Air Quality Index (AQI) Basics." AirNow, June 18, 2019, https://www.airnow.gov/index.cfm?action=aqibasics.aqi.
"Pmwidthgraphic.jpg." AirNow, January 31, 2017, https://airnow.gov/index.cfm?action=aqibasics.particle.