Did you know that on January 1, 2022, The Joint Commission's new water management standard for healthcare facilities went into effect? This new standard (EC.02.05.02, EPs 1 through 4) supersedes the previous version (EC.02.05.01, EP 14) which "addressed the need for healthcare organizations to minimize pathogenic biological agents in cooling towers, domestic hot- and cold-water systems, and other aerosolizing water systems". This previous standard did not provide clear guidance on how to achieve this, which has allowed building owners to broadly define and interpret the standard themselves. This and the need for further improvement in quality and safety in healthcare facilities prompted the Joint Commission to create and adopt this new standard.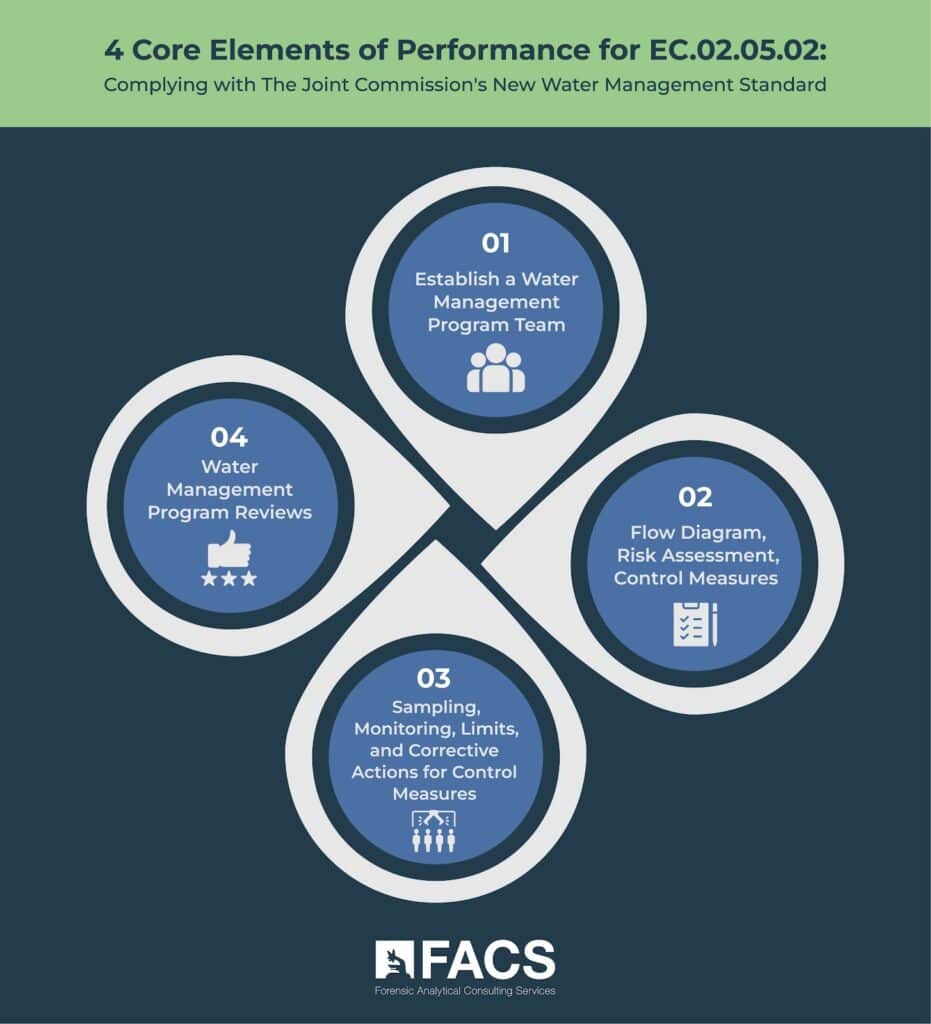 The new water management standard was created to guide hospitals on how to minimize health risks associated with "pathogenic biological agents". It requires hospitals and nursing care centers to have a written water management program (WMP) that addresses "Legionella and other waterborne pathogens."  Below are the four core Elements of Performance (EP) for EC.02.05.02 that you need to know and include to ensure your current program complies with the new standard.
EP 1: Establish a WMP Team – Designate a team that will oversee and be held accountable for the WMP program, its management, and maintenance.
EP 2: Flow Diagram, Risk Assessment, Control Measures

Water System Flow diagram – Create

a basic water system diagram that outlines the flow of all water system points (e.g., entry to the building), end-use points, and processing steps (e.g., heating, softeners). It should also include all types of point-of-use fixtures but does not need to identify all locations.

Risk/Hazard Analysis – Identify any areas where potentially hazardous conditions may occur or patient populations who are identified as high risk (i.e., immunocompromised). (Note: The standard refers to the CDC's tool, Water Infection Control Risk Assessment (WICRA) for Healthcare Settings as an example of a tool for conducting the water-related risk assessment.)
Control Measures – Provide control measures to minimize conditions that promote the growth of Legionella and other pathogens. EC.02.05.20 specifically requires control measures to minimize stagnation.
EP 3: Sampling, Monitoring, Limits, and Corrective Actions for Control Measures – The standard itself does not require testing for Legionella or other waterborne pathogens unless required by regulations. It does, however, state that testing should be left to the discretion of the WMP team when evaluating control measures. Additionally, it states that monitoring water temperatures, disinfectant levels, and pH should be "considered." If sampling or monitoring occur, corrective actions must be taken if results for any parameters or pathogens tested are outside acceptable limits ("ranges") previously developed and outlined in the plan. All sampling, monitoring, and limits established should be documented along with any corrective actions.
EP 4: WMP Reviews – WMP's must be reviewed whenever any water systems change at the facility or additions (e.g., new equipment, system, wing, or building) could affect Legionella growth or transmission (e.g., via aerosols) or otherwise increase risk.
It is still up to the team to define key elements
Even under the more detailed requirements, the Water Management Team (WMT) still has both the ability and responsibility to define key elements of the plan. It is clear that the management program must include implementation of control measures and perform program verification and validation. The WMT can and should customize these elements to the conditions present and based on the results of the water-related risk assessment. For example, the team can define the control measure ranges that are acceptable for the site conditions present as well as the methods and schedules for monitoring those ranges. They must also develop the contingency plans and response actions for when control measures are found to be out of the acceptable ranges. There is a great responsibility associated with developing these criteria.  For that reason, it is important your team has the appropriate mix of experts involved. 
We're here to help
FACS healthcare and water quality subject matter experts are ready to partner with you to assist in the development and review of your water management program. We are also available to assist in developing your monitoring and sampling plans and can provide the testing support you need as defined by your program. Give us a call at (888) 711-9998 or reach out using our contact form today.