All demolition, construction, and renovation activities in healthcare facilities — whether planned or unplanned — require a pre-construction risk assessment (PCRA). Some guidance documents refer to this procedure as an "Infection Control Risk Assessment" (ICRA). The Joint Commission's Environment of Care Standard establishes the framework. 
Certain concerns tend to get the most attention during renovation projects in occupied facilities: 
Which patients or services will be impacted?

How much dust will be generated?

How long will the project take? 

What is the potential impact to utility systems performance (e.g. HVAC, plumbing)?
PCRA teams typically get those questions answered, but highly effective teams will also seek expert opinions on other risks that are not so commonly addressed. Examples are the impact of noise and vibration, potential odors, chemical exposures, and the impact to utilities. 
Focus on the impact of construction and renovation on domestic water systems is increasing and must be addressed in every PCRA plan.  Effective January 1, 2022, The Joint Commission has approved a new standard (EC 02.05.02, Elements of Performance 1-4) on water management programs that addresses Legionella and other waterborne pathogens.
The impact of construction and renovation on the water supply is crucial and must be covered in every PCRA plan. 
Will sections of the system need to be shut down during the work?

Will vibration cause disturbance and release of biofilms or bacteria?

Who will monitor the cooling tower, the water fixtures, and other water systems essential to the facility?

What types of validation testing are currently in place and will they need to be modified during construction?

What post-project commissioning steps are needed?
Renovation projects in hospitals and other healthcare buildings can be exceptionally difficult to plan and manage. This article suggests one important, but often overlooked, step health care facility administrators can take to protect patients, staff, and visitors from potentially harmful waterborne pathogens that can be spread and released during renovation activities. It also covers one easy-to-miss regulation that can result in huge losses of time and money if it is not taken into account during the PCRA.
We'll focus on how hospitals can manage risks to water systems, and we'll especially look at how a "perfect storm" created by two regulatory facts can catch contractors, administration, and the PCRA team by surprise.
Pre-construction Risk Assessments Guidelines and Regulations
Hospital renovation projects, when not properly managed, can create conditions that potentially harm patients. Environmental conditions that could be well-tolerated by most people may be devastating to someone whose immune system or other vital functions are weakened. 
Consequently, there are many standards, regulations, and guidelines that must be taken into account during the project planning phase of any construction activities planned for a hospital or other healthcare location. 
Here are examples of documents that speak specifically to pre-construction risk assessments and infection control:
Section 1.2-3.2 of the Guidelines for Design and Construction of Residential Health, Care, and Support Facilities, by the Facilities Guidelines Institute (FGI)
For a healthcare facility project to support safe designs, HVAC/plumbing systems, and surface and furnishing material selections, an infection control risk assessment shall be a part of integrated facility planning, design, construction, and commissioning activities and shall be incorporated into the safety risk assessment.
Standards FMS.4.2.1, PCI.7.5, EC02.06.05, and EC.03.01.01 of the Joint Commission Hospital Standards

When planning for demolition, construction, or renovations, the organization conducts a pre-construction risk assessment (FMS.4.2.1).

The hospital reduces the risk of infection in the facility associated with mechanical and engineering controls and during demolition, construction, and renovation (PCI.7.5).

When planning for demolition, construction, or renovation, the [organization] conducts a pre-construction risk assessment for air quality requirements, infection control, utility requirements, noise, vibration, and other hazards that affect care, treatment, or services (EC02.06.05).

Staff and licensed independent practitioners can describe or demonstrate methods for eliminating and minimizing physical risks in the environment of care (EC.03.01.01).
Note that the guidelines listed above include infection assessment and control as part of the pre-construction risk management precautions. Larger facilities may appoint someone to focus entirely on infection control. Smaller facilities may not have the budget or staff capability to provide that level of oversight.
Now consider the following mandate from the Centers for Medicare/Medicaid Services (CMS) and the importance of this requirement to the PCRA process:
QSO-17-30- Hospitals/CAHs/NHs, by the Centers for Medicare & Medicaid Services
Facilities must develop and adhere to policies and procedures that inhibit microbial growth in building water systems that reduce the risk of growth and spread of Legionella and other opportunistic pathogens in water. This policy memorandum applies to Hospitals, Critical Access Hospitals (CAHs) and Long-Term Care (LTC). However, this policy memorandum is also intended to provide general awareness for all healthcare organizations.
Renovation work at hospitals and other health care facilities is the spot where two standards collide and synergize. The pre-construction risk assessment regulations and the mandate from the Centers for Medicare/Medicaid Services (CMS) specifically require the water management program to control Legionella and other harmful waterborne pathogens. 
These two, in combination, create a situation every PCRA team should carefully consider. This fact is sometimes overlooked and can be a rather expensive place to drop the ball during a healthcare renovation project.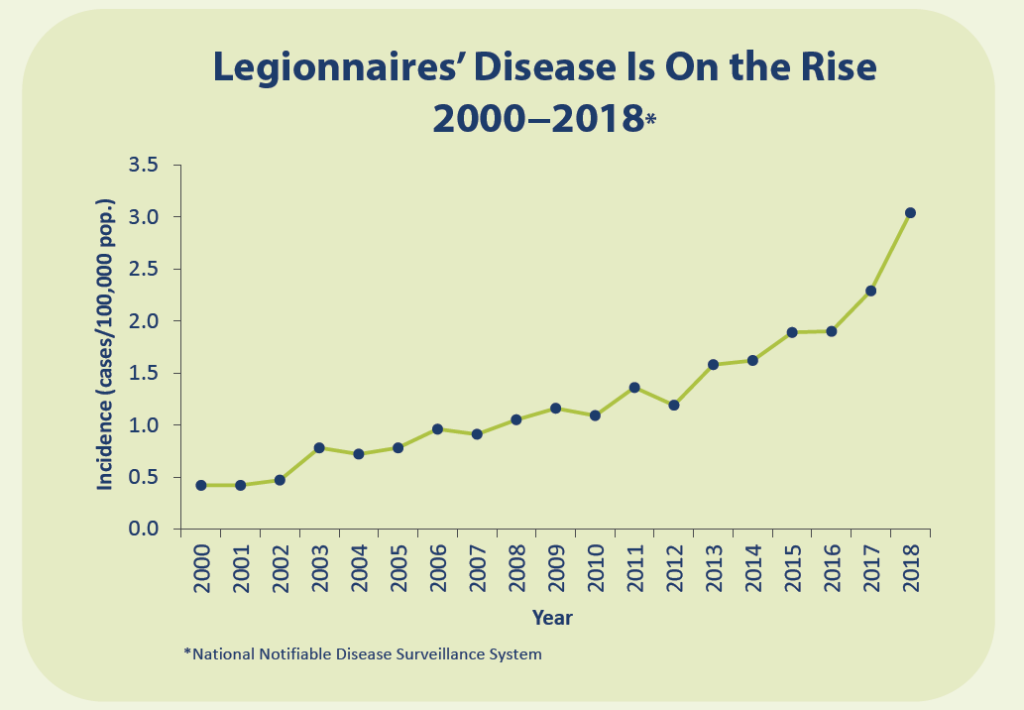 Healthcare Facility Renovations, Legionella, and Infection Control
Legionella received its name and attracted national attention after an inordinate number of attendees at a national convention of Legionnaires became sick after the event. Within two weeks, 27 of those present had died from a mysterious ailment later known as "Legionnaires' Disease."
You can find further information about the Legionella bacteria in this article: Legionnaires' Disease Prevention and Control. 
You'll also find the following, rather disconcerting, statement in that document:
Facility managers, building owners, and water management teams are often surprised to discover there's presently no established criteria for Legionella consultant certification in the United States. That makes obtaining an audit of your water management plan from a qualified Legionella expert a difficult path to tread. Without a properly vetted consultant, you can expose your company or institution to intense financial and legal liability. 
New construction projects are not exempt from the potential of Legionella or other waterborne pathogen outbreaks. Problems can occur, for instance, when water pipes stored onsite prior to installation become contaminated by pathogens in the soil or when installed lines sit stagnant for periods of time. Construction work can have a huge impact on plumbing systems and can create waterborne pathogen problems where there were none before. Construction activities can also exacerbate pre-existing conditions. Another consideration is that of local plumbing codes that may require treatments such as hyperchlorination and/or testing as part of commissioning impacted systems.  However, quite often plumbing code testing requirements are geared toward other pathogens such as coliform bacteria and may not be adequate to address concerns related to Legionella.
Restoration work at hospitals and other healthcare facilities can also present opportunities for trouble: Existing water lines may sit dormant during the work, or existing biofilms that can harbor harmful pathogens may be disturbed and move from one part of the system to another where they can colonize and grow. They can then be released through fixtures and expose building occupants to a significant danger. 
Water stagnation, fluctuations in pH, changes in water pressure, lack of adequate temperature or disinfectant controls — these factors, and more, can contribute to outbreaks of Legionella and other harmful pathogens.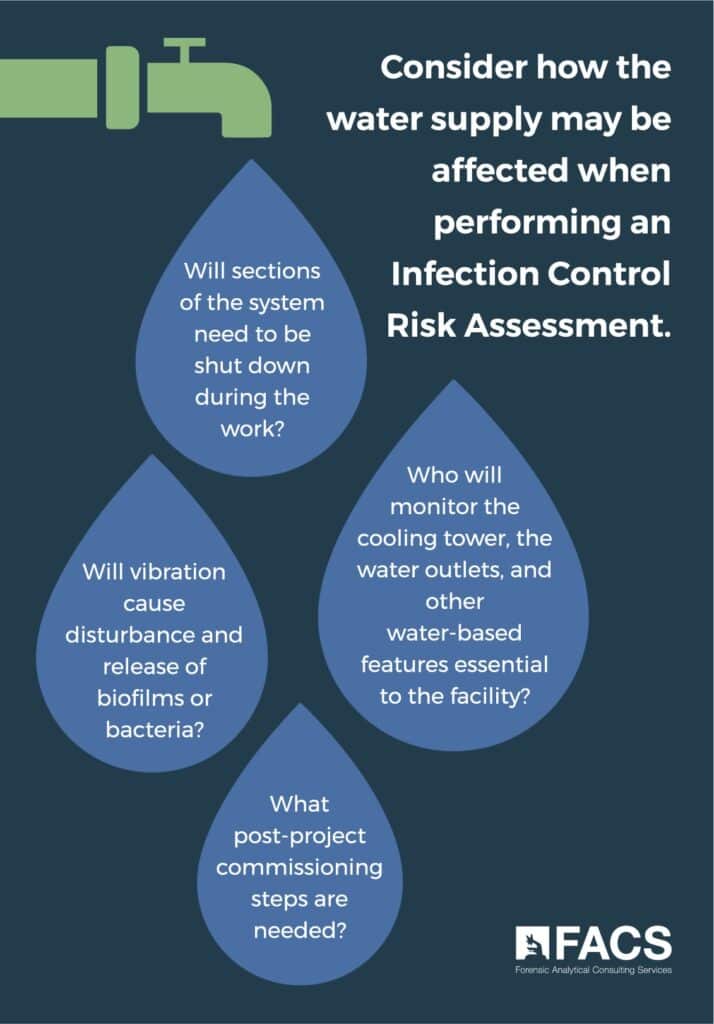 Pre-Construction Risk Assessment Suggestion for Effective Infection Control
Every pre-construction risk assessment team should seek the advice of professionals familiar with waterborne pathogen control and testing. Experienced infection control specialists, plumbing system experts, and industrial hygienists (IHs) know where to look and what to look for. Their advice can prevent unnecessary exposures and needless expenses.
It is essential that you look at the potential impact the proposed work will have on plumbing systems — but with a more specific focus than what may have been considered in the past. Since this work is highly specialized, count on the services of the engineers and IHs to assist in the evaluation of the situation before, during, and after construction. A qualified IH can assist in the risk assessment phase and provide the most cost-effective approaches to validating successful risk reduction. Testing might include monitoring a combination of water temperatures, disinfectant levels, bacteria or other pathogens, frequency of fixture use, or other factors, depending on the nature of the project and the operation of the plumbing system.
The Infection Prevention Manual for Construction and Renovation by the Association for Professionals in Infection Control and Epidemiology (APIC) insists a multidisciplinary team must be assembled to conduct the PCRA. Reasons given in the manual include a concern for patient risk factors, getting a clear understanding of the scope of the project, considering impact to the building systems, and other factors related to the ability to provide a high standard of care.
Don't let your healthcare renovation project and team get caught unprepared for Legionella, other waterborne pathogens, or general water quality issues. Protect patients and staff, your relationship with CMS, and your reputation by following the guidelines and requirements. Take decisive steps to protect your facility and those in it from unnecessary exposure to Legionella and other waterborne pathogens. 
If you have questions or want to schedule a talk with a well-qualified industrial hygienist, call FACS directly at (888) 711-9998 or use our online contact form.