How healthy is the building? Is the air and water quality in this building safe? Is ventilation adequate? Questions like these were gaining popularity prior to the COVID pandemic, but are now top of mind for anyone who works in or visits the space. Employers, employees, residents, management, visitors — all care about the health of the building.
Earlier building certification systems were focused on environmental responsibility and energy efficiency, hence the term "green building certification." More recently, the focus of newer building certification systems have shifted towards occupant health and well-being.
Many property owners are seeking "green building certification" or "healthy building certification" to make it known to all that their facilities are designed with human and environmental health in mind. But there's a downside to the process: Green building certification can be an expensive and lengthy process to obtain.
That's why FACS teams often get asked questions like, "Which building certifications are available" and "Isn't there a DIY approach to the process?" If you've wondered about the value and cost of letting the world know your building is healthy, then keep reading. We'll tackle that topic here.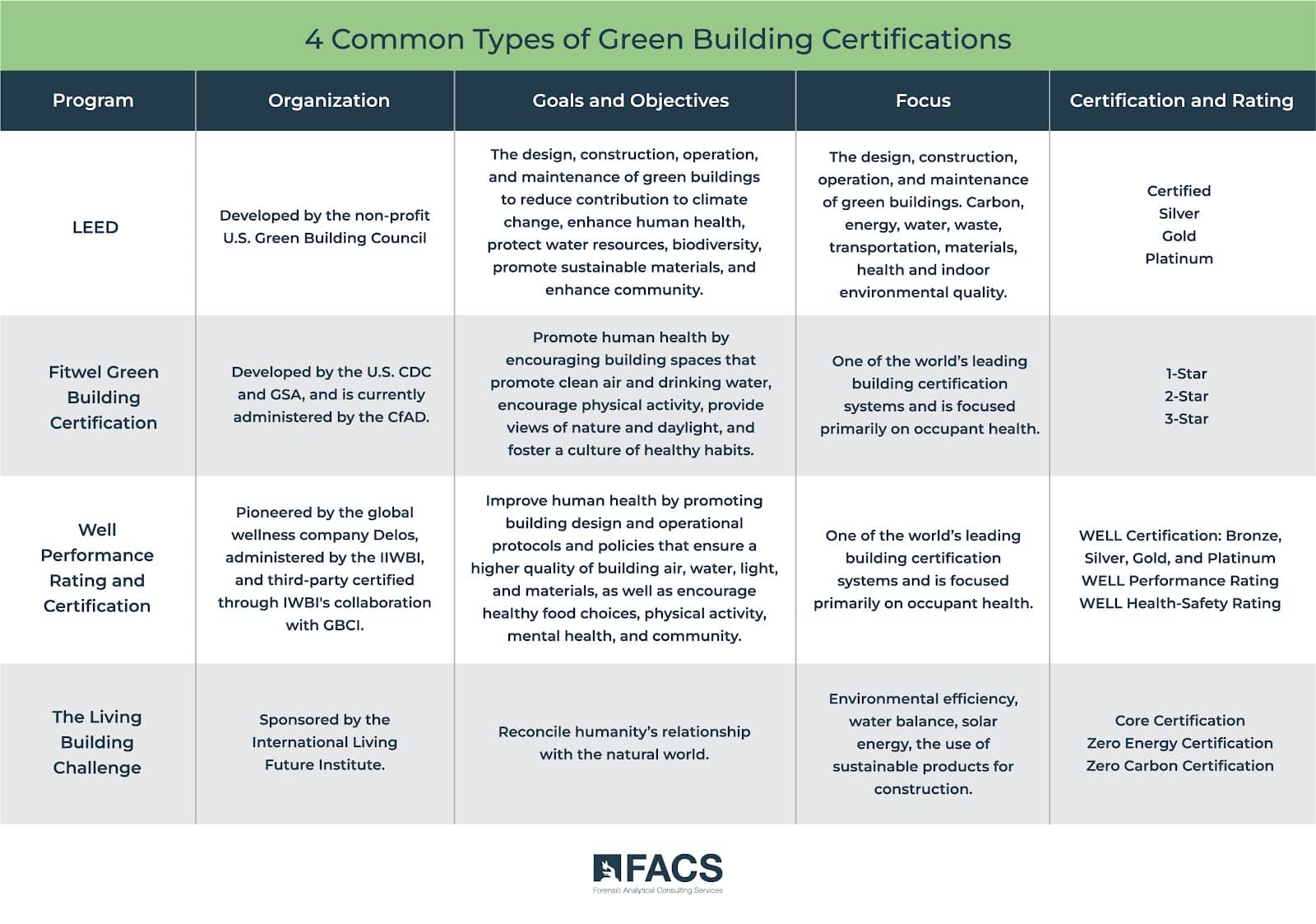 Types of Green Building Certifications
The first thing owners or management teams discover when they begin to investigate healthy building criteria is that there's a long list of possible certifications.
Here are four of the most common:
LEED (Leadership in Energy and Environmental Design) Certification
LEED is a globally recognized green building certification program developed by the non-profit U.S. Green Building Council for the design, construction, operation, and maintenance of green buildings. The goals of LEED are to reduce contribution to climate change, enhance human health, protect water resources, biodiversity, promote sustainable materials, and enhance community. To achieve LEED certification, points are awarded to a project by achieving prerequisites and credits that focus on carbon, energy, water, waste, transportation, materials, health and indoor environmental quality. Projects are awarded points that correspond to a level of LEED certification: Certified, Silver, Gold, and Platinum. While occupant health is considered, LEED is primarily concerned with energy efficiency and environmental responsibility. Pricing is based on the size of the building, the number of credits you seek, and how quickly you wish for the certification process to be completed.
Fitwel Green Building Certification
The Fitwel building rating system is one of the world's leading building certification systems and is focused primarily on occupant health. Fitwel was originally developed by the U.S. Centers for Disease Control (CDC) and General Services Administration (GSA), and is currently administered by The Center for Active Design (CfAD). Like LEED, the Fitwel reach is now global. The public health ambitions of this non-profit are to promote human health by encouraging building spaces that promote clean air and drinking water, encourage physical activity, provide views of nature and daylight, and foster a culture of healthy habits; all of which are backed by peer-reviewed scientific studies on improving human health. Projects can achieve 1-Star, 2-Star, or 3-Star ratings.
WELL Performance Rating and Certification
The WELL building rating system is one of the world's leading building certification systems and, like Fitwel, is focused primarily on occupant health. The WELL Building Standard was pioneered by the global wellness company Delos. It is administered by the International WELL Building Institute (IWBI) and is third-party certified through IWBI's collaboration with Green Business Certification Inc. (GBCI) – the same certification body for the LEED Green Building Rating System. The goal of WELL is to improve human health by promoting building design and operational protocols and policies that ensure a higher quality of building air, water, light, and materials, as well as encourage healthy food choices, physical activity, mental health, and community. The specific strategies are backed by peer-reviewed scientific studies on human health. WELL rating options include WELL Certification (the certification process provides four levels based on points achieved: Bronze, Silver, Gold, and Platinum), WELL Performance Rating, and WELL Health-Safety Rating. With the WELL model, properties can become "rated" on the way to full certification.
The Living Building Challenge
The International Living Future Institute sponsors the Living Building Challenge, whose objective is environmental efficiency. Parameters include relationship to the natural environment, water balance, solar energy, and the use of sustainable products for construction. The stated aim is to reconcile "humanity's relationship with the natural world." Certifications granted are the Core Certification, Zero Energy Certification, and Zero Carbon Certification.
How to Determine Which Green Building Accreditation to Pursue
There are three primary ingredients you'll want to consider when choosing the best green building certification process for your property.
1. How do the stated goals and underlying philosophy fit my own? By visiting the websites for the various certifications we've linked above and diving deeper into the possibilities, you'll get a better feel for "fit." You'll want a certification you believe in and will be proud to be associated with. You'll also want to choose an organization that matches your company's goals and values.
2. How do my tenants or customers perceive the certification? Will they be impressed by the effort involved and join in your belief that the designation means something important? Gaining buy-in from stakeholders can be a crucial part of your selection.
3. What is the cost of certification? Does it make financial sense to hop on board the healthy building movement? Will there be a return on investment for both the bottom line and your branding?
The selection process is something FACS can assist you with, but the best fit depends more on you and your objectives than on the specific green building certification agency. End results are similar with all: environments promoting health for people and the planet. Choose the one most in line with the desires held by you and your stakeholders.
What Are the Advantages of Green Building Certification?
Let's face it, you can design and develop your project in a way that places high value on occupants and the environment without enrolling in a certification program. You'll save the cost of the certifying process and sidestep a pile of red tape.
On the other hand, the certification highlights the efforts you've taken and shows the world you care about human and environmental health. Would you rather spend much of your time in a building that may be "sick," or would you rather work or live in a building where health is a primary concern and that fact is confirmed by a certifying organization? Many others feel the same.
While gaining green building certification isn't necessary for any company or building, it can provide advantages — especially to branding — that make the process worthwhile. Healthy building strategies not only improve occupant health, but they have been proven to improve occupant satisfaction, productivity, and financial outcomes. If you have tenants, certification can even allow you to charge more for the space and attract people or companies who are deliberately seeking green-certified facilities.
The main thing is that you manage your building for health and establish a strategy to assure and document the safeguards you want in place. FACS has a third way to do that — a customized healthy building program that can set you up for certification if and when you're ready to pursue it.
The FACS Approach to Healthy Buildings
FACS can help you determine the indoor environmental quality (IEQ) health criteria most important to your company, develop customized programs and procedures for identified focus areas, and regularly inspect to confirm your IEQ goals are maintained.
Healthy building focus areas FACS can assist with, whether or not you choose to pursue a building certification, include the following:
Water quality assessment and testing
Legionella assessments and water management plans
Air quality assessment and testing
HVAC system and overall ventilation assessments
Hazardous building materials inspection (asbestos, lead, PCBs)
Mold and moisture concerns
While pursuing certification is one way to proceed, the worst way is to not be concerned about creating a healthy environment for your building at all. Not only can that attitude result in unforeseen healthy building issues and occupant complaints down the road, but should you later decide to seek certification you'll want to know and document the actions you've already taken. Accurate recordkeeping can save time and money in the long run.
What should you do next? Call FACS for an informative discussion about the healthy building process and green building certification strategy that's best for you and your property. You can schedule a no-obligation discussion with a FACS environmental specialist by calling (888) 711-9998. We'll help you gain clarity and avoid confusion.