While the country is preparing to return to work, COVID-19 safety is on everyone's mind. Various national and local public health organizations have developed return to work protocols to assist in allowing workers to return to work and do so safely with regard to COVID-19. However, as we implement these new protocols, we must consider how they impact other health and safety concerns. The following are a list of health and safety issues to consider.
Heat Illness
While we try to maintain physical distancing, it tends to prove quite difficult, particularly in high traffic or public interior spaces. To assist in maintaining physical distancing, organizations are now finding new ways to limit the number of individuals in their building while still trying to maintain business as usual. Some have begun restricting access resulting in some organizations creating lines outside for those wanting to enter, as well as providing outdoor services. Although these are great ideas when the weather cooperates; it is important to remember as we enter the summer months, having individuals wait outside may result in the risk of heat illness. Heat illness includes minor conditions, such as heat cramps, heat syncope, and heat exhaustion, as well as the more severe condition known as heat stroke. Heat illness can affect anyone, regardless of age or physical condition.
California Division of Occupational Safety and Health (Cal/OSHA) has a specific regulation with regard to Heat Illness Prevention in Outdoor Places of Employment (Title 8 California Code of Regulations §3395). The standard outlines measures that need to be put in place when temperatures exceed 80 degrees Fahrenheit. Regardless of the presence of state-specific heat illness standards where you live, under OSHA, employers are responsible for providing workplaces free of known safety hazards. This includes protecting workers from extreme heat. An employer with workers exposed to high temperatures should establish a complete heat illness prevention program.
Provide workers with water, rest and shade.
Allow new or returning workers to gradually increase workloads and take more frequent breaks as they acclimatize, or build a tolerance for working in the heat.
Plan for emergencies and train workers on prevention.
Monitor workers for signs of illness.
Consider modified operating schedules to reduce exposure to high heat.
Exposures to Disinfectants
Have you tried purchasing disinfectant wipes recently? If you have, I am sure you are aware of the difficulty in doing so. Disinfecting products went off the shelves faster than toilet paper. CDC, as well as other public health entities, recommend proper cleaning and disinfection of high-touch surfaces to help mitigate the transmission of SARS-CoV-2. The world has become obsessed with cleaning and disinfecting; however, it is important to remember how dangerous these products can be. By nature, their job is to inactivate or destroy microorganisms. If used improperly, they can cause great harm to life and health, including skin irritation, respiratory issues, and even death. Many new products are being introduced with claims of being safe and effective but with very little data to support these claims. The temptation to use them is high when those with which we are most familiar are unavailable. Exposures to eyes, skin and respiratory systems are a concern, as is consumption.
A recent study by the National Poison Data System (NPDS), CDC and the American Association of Poison Control Centers compared the number of exposures reported for the period January–March 2020 with the number of reports during the same three-month period in 2018 and 2019. The study concluded that although NPDS data do not provide information showing a definite link between exposures and COVID-19 cleaning efforts, there appears to be a clear temporal association with the increased use of these products.1
FIGURE. Number of daily exposures to cleaners and disinfectants reported to U.S. poison centers — United States, January–March 2018, 2019, and 2020†

† Increase in exposures to cleaners on January 29, 2020, came from unintentional exposure to a cleaning agent within a school.
Prior to using any cleaning or disinfecting product, it is important to read the label. Understand how to use it properly and how to protect yourself.
Indoor Environment Quality (IEQ)
Many commercial buildings have been shut down for weeks or months. Water that has sat stagnant for weeks in plumbing systems may support growth of waterborne pathogens like Legionella or accumulate chemical hazards such as a lead. Minor leaks or mechanical failures could have had time to accumulate and potentially develop into substantial mold growth. Shut down of building ventilation systems may have allowed the accumulation of noxious odors or chemical hazards from the many products used and stored in our buildings. Without regular occupancy and maintenance, pests may have infested our buildings, damaging property, creating unpleasant odors, depositing allergens, and even spreading pathogens. An indoor environmental quality inspection prior to re-occupancy is recommended for every building that has been vacated to identify and address these concerns prior to general reopening.
Now, as buildings reopen, guidance suggests maximizing ventilation and improving filtration as much as feasible. Shut-down HVAC systems may result in unpleasant odors indoors due to normal off-gassing from the products and materials found in the built environment. Building operators will have to manage occupant expectations as system changes (e.g., lower occupancy, increased ventilation, propping open doors) may reduce control of environmental comfort. Evaluation, modification, and balancing of HVAC systems is recommended to identify issues that may have arisen during building shut-down and to find the setpoints that will be responsive to COVID-19 guidance while providing a comfortable indoor environment.
Consideration should also be given to strategies for addressing IEQ complaints. In an environment where many will return to work and public life with an elevated level of concern about their personal safety, building occupants may be more sensitive than normal to signs of reduced IEQ. Prompt investigation, open communication, and reasoned, science-based corrective actions will go far in addressing initial complaints and reassuring occupants that the building operator is serious about providing a safe and healthful indoor environment.
Mental Health
Since the beginning of the COVID-19 pandemic and isolation efforts in March, Americans have been reporting increasing pressure on their mental health. A new survey conducted by researchers at the Johns Hopkins Bloomberg School of Public Health during the COVID-19 pandemic found a more-than-threefold increase in the percentage of U.S. adults who reported symptoms of psychological distress—from 3.9 percent in 2018 to 13.6 percent in April 2020.  Mental stress and increases in the pressures of life during this unprecedented event is resulting in concerns for potential increases in workplace violence, aggressive driving and impaired concentration during the performance of high-risk tasks.
A number of resources are available to assist in dealing with increased stress during this time. Tips for coping with stress include maintaining a healthy lifestyle whilst working from home – including proper diet, sleep, exercise and social contacts with loved ones at home and reaching out to stay connected by email and phone with other family and friends.
Get the facts about COVID-19 from a credible source, a lot of information is available on social media and this can often be incorrect or incomplete information which can lead to additional stressors. Gather information that will help you accurately determine your risk so that you can take reasonable precautions. Find a credible source you can trust such as CDC, WHO, a local or state public health agency.
Ergonomics 
Organizations are continuing to recommend employees to work from home if feasible. There are a number of common mistakes people make when configuring their home office that might lead to health issues now that we are all working from home for extended periods. Also, workspaces are being reconfigured to accomplish distancing. This can result in people working for long periods in workstations not designed from prolonged use such as conference rooms.
In our efforts to maintain physical distance, people may find themselves sitting for longer periods of time. Dr. Edward R. Laskowski, M.D. in a Q&A response on the Mayo Clinic website concluded that more study is needed on the effects of sitting and physical activity on health. However, it seems clear that less sitting and more moving overall contribute to better health.
Our bodies are not meant to be static; they're meant to move. Try and get up and stretch once every hour during your workday. The main goal is that you're moving intermittently and varying your posture throughout the day to avoid strain.
The most common issues deal with the device you're using (PC, laptop, iPad) and your posture. One of the worst ergonomic positions is using a laptop on your lap. Ideally, you want to replicate the posture in the picture below.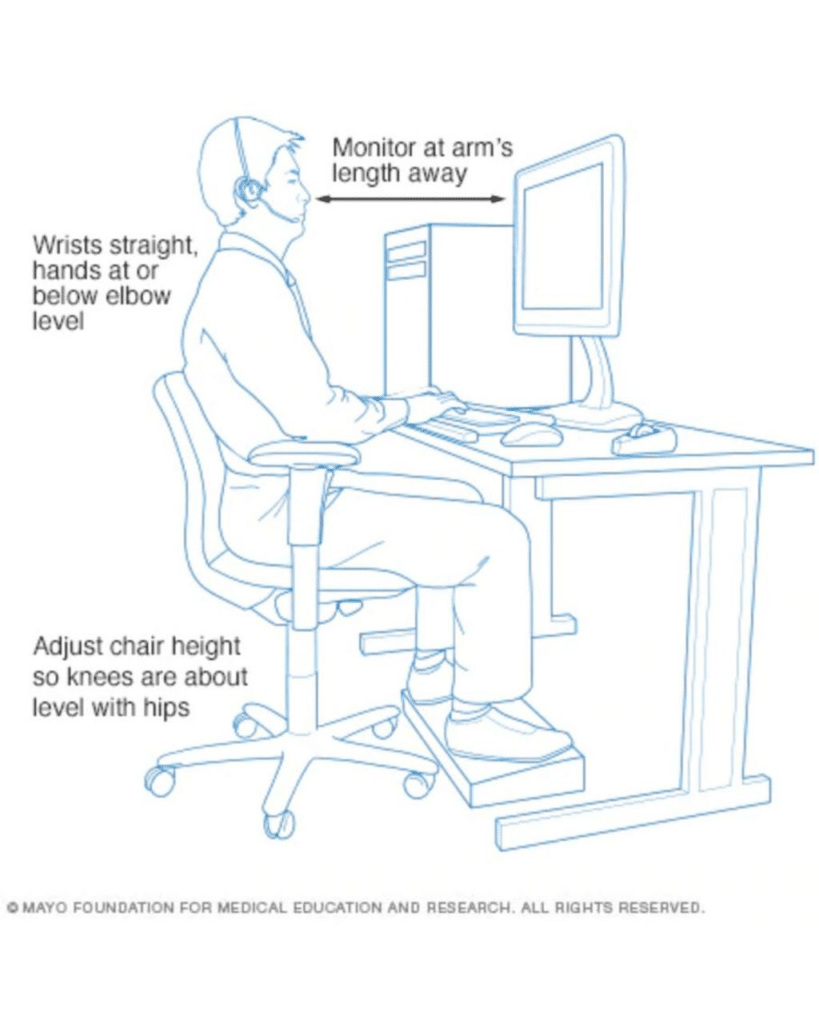 Eyes level with top of computer screen (e.g., raise screen with books)
Hips, knees, and ankles should be flexed at 90-degree angles
Elbows also bent and level with keyboard
Choose chair with adequate postural support
Feet resting on floor or footrest (e.g., get a book or two to uses as a footrest)
Adequate lighting to reduce eye strain; natural light is best (e.g., sit near window; adjust throughout day)
We are faced with many new health and safety challenges and it is possible that we may see even more. While some thoughts of information overload and training fatigue have been tossed about, this is not the time to relax. In fact, talking about some of the old health and safety concerns might be a welcome change for some.
1Chang A, Schnall AH, Law R, et al. Cleaning and Disinfectant Chemical Exposures and Temporal Associations with COVID-19 — National Poison Data System, United States, January 1, 2020–March 31, 2020. MMWR Morb Mortal Wkly Rep 2020;69:496–498. DOI: http://dx.doi.org/10.15585/mmwr.mm6916e1external icon.