If you're concerned about water quality monitoring, water management plans, how to sample building water after prolonged closures, or Legionella prevention, here's some welcome news: the American Industrial Hygiene Association (AIHA) released an updated edition of their "Recognition, Evaluation, and Control of Legionella in Building Water Systems" guide.
The AIHA is one of the leading industry best-practice sources used not only by FACS industrial hygienists, but by industrial hygienists across the globe. Whether your primary responsibility is Legionella in hospitals or you're a small business that wants to protect your employees and customers from Legionella and other waterborne pathogens, this guide can assist you in developing a water management strategy that aligns with current standards and recommendations.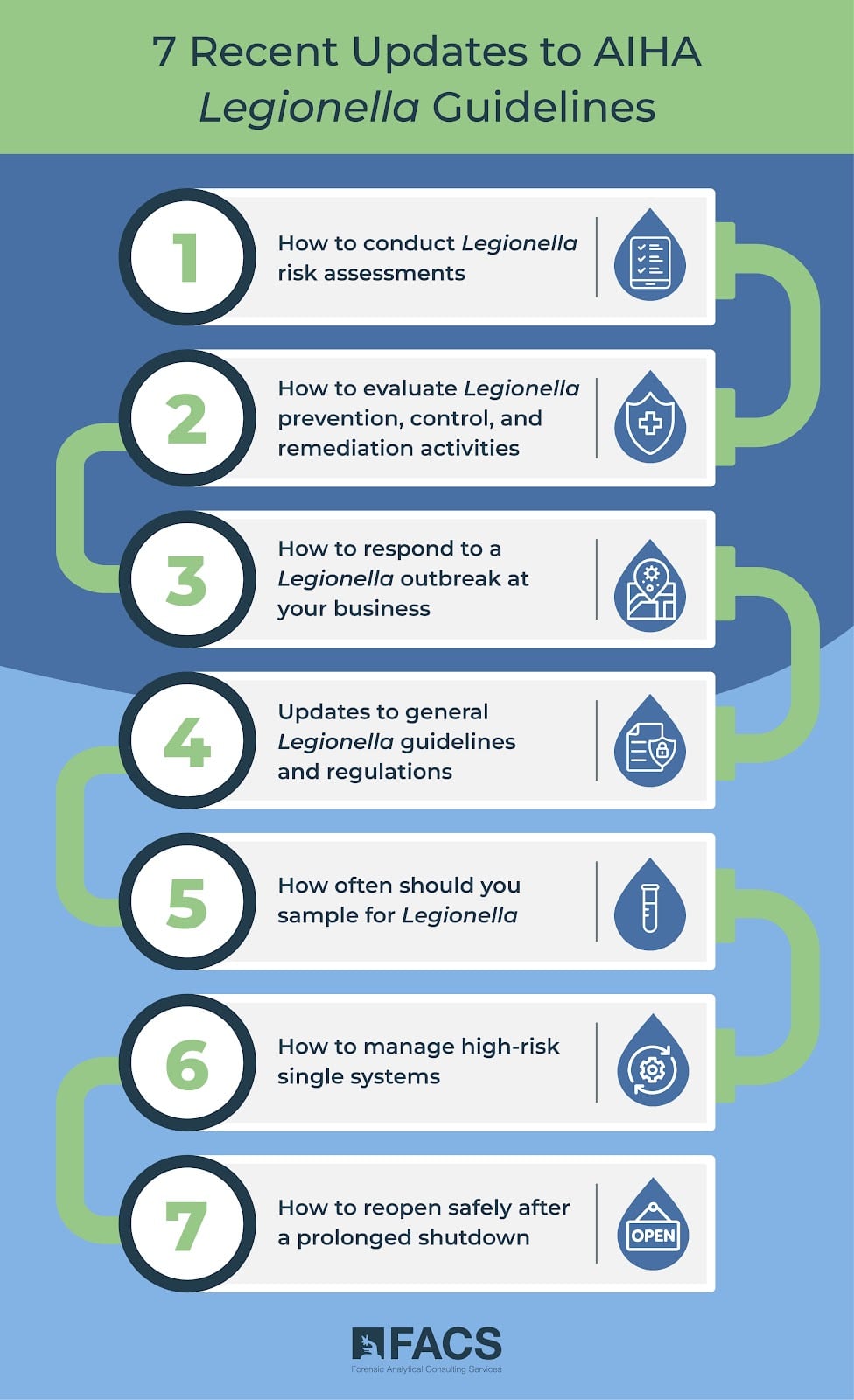 What's included in the updates:
How to conduct Legionella risk assessments (with healthcare updates)
How to evaluate Legionella prevention, control, and remediation activities (with changes specific to remediation and cooling towers)
How to respond to a Legionella outbreak at your business
Updates to general Legionella guidelines and regulations
How often should you sample for Legionella (expanded information)
How to manage high-risk single systems and how to reopen safely after a prolonged shutdown
You may not be concerned about Legionella right now, but if you have a water feature, ice machine, hot tub, or use other water-based equipment … Legionella is a threat.
Hotels, housing complexes, hospitals, skilled nursing facilities, physical therapy centers, and similar businesses are prime candidates for Legionella outbreaks. Operating without a water management plan is an open door to potentially expensive lawsuits and brand damage. This guide can show you how to protect both your business and the health of those who come to you for help.
We are pleased to report that several FACS experts worked with AIHA to develop this guide that serves as the industry standard. You can get your copy on the AIHA website. For help with Legionella issues, call FACS at (888) 711-9998.