*Updated November 2022 to reflect more recent figures and information.
According to the cannabis jobs report (2022), there are more people now working in legal cannabis operations than there are dental hygienists, insurance salespeople, or textile workers. Jobs within the cannabis industry grew by 33 percent in 2021 over the prior year, pushing the current total cannabis workforce in the U.S. to over 428,000 in 2022. Cannabis now generates about $25 billion in annual revenue.
Cannabis employment is rising sharply. However, are the workers flocking to the industry being provided the training and equipment they need for protection against on-the-job hazards?  
The answer:  Not yet.
Widespread changes in marijuana legalization, leading to the rapid expansion of cannabis growing operations and cannabis processing facilities, are fueling the almost $16 billion cannabis industry … unfortunately, that growth may be at the expense of worker health and safety.
To address those concerns, FACS occupational health professionals are working with cannabis growers and manufacturers to develop strategic health and safety programs to protect workers from on-the-job injuries and illnesses.
Our aim is to assist in reducing injuries and illnesses, lower the cost of workers compensation claims, minimize lost time on the job due to illness or injury, and correct unsafe working conditions.
Most of all, though, companies that grasp the importance of worker health and safety are positioned to protect their most important asset — their employees. Workers who know their employer cares about their health and safety tend to care more about the company. That sets up a classic win-win situation.
In this article, I'll provide an overview of the focus areas FACS uses to help cannabis management teams better understand and address worker health and safety issues. 
Cannabis Grower Health and Safety Regulations
Don't comb the regulations in states where marijuana is now legal for statutes concerning cannabis production. You'll find references to licensing and regulations; however, you are not likely to find much about cannabis cultivation. That's because, in essence, marijuana is just another agricultural crop. 
Why should a cannabis grower be treated any differently than a tomato farmer? States do not need to develop an entirely new body of law for cannabis growers since agricultural businesses are already well regulated. The problem isn't with the law.
Here's the underlying issue:  Cannabis operations that were once prohibited are now legally sanctioned — whether for medical use only or for public consumption — in 33 states and the District of Columbia. Workers who once worked without protective measures in place are now granted the protection of worker health and safety ordinances. 
Unfortunately, the systems to provide that protection are not yet in place at many cannabis-related facilities. Getting up to speed with the requirements of worker health and safety laws will take a concerted effort and focus on behalf of cannabis business owners and managers.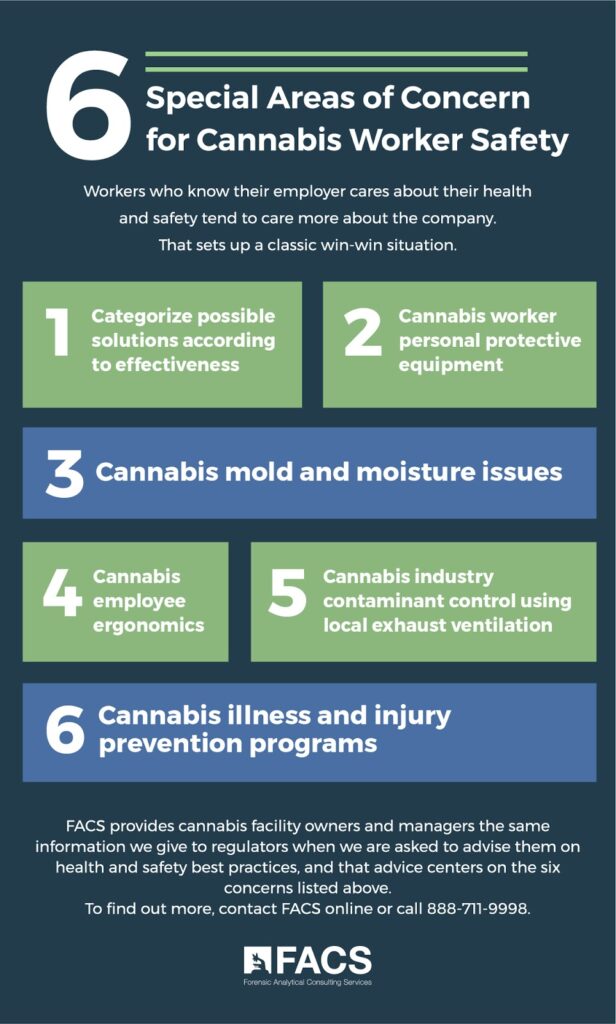 6 Special Areas of Concern for Cannabis Worker Safety
FACS industrial hygienists guide managers of marijuana grow operations and cannabis processing facilities through an assessment covering six major areas. We present those topics here as an initial checklist for cannabis operation management teams to consider when beginning to create their own strategic worker health and safety program.
1) Categorize possible solutions according to effectiveness
The FACS approach to workplace safety follows a path that considers solutions based on effectiveness. The first and best choice is to eliminate the hazard altogether. The second is to substitute the hazard with something less hazardous. After that, we implement engineering or administrative controls as appropriate to keep workers away from the hazard. And finally, to provide personal protective equipment to shield workers from hazards.
For instance, perhaps a certain chemical used to stimulate plant growth is extremely hazardous to humans, but experimentation shows the same results can be achieved by organic means without using chemicals at all. This allows for elimination of the hazard.
If the chemical is essential, perhaps there's another chemical that will produce acceptable results, but isn't nearly as hazardous. The next best choice would be to substitute one product for another, assuming there are no limiting factors to prevent that decision.
If those two options aren't available, we look for ways to isolate workers from the hazard, make workflow changes, then finally to recommend protective equipment. We find the tendency of employers is often to jump straight to buying chemical-resistant gloves and respirators, but that may not be the smartest or even the most cost-effective option.
2) Cannabis worker personal protective equipment
Workers exposed to hazardous substances or conditions are required by law to have access to (and use as necessary) personal protective equipment (PPE). Examples of PPE items commonly used in the cannabis industry are chemical-resistant gloves, protective clothing, and certain types of respiratory protection.
Cannabis facility managers must know which personal protective equipment is needed, which jobs each item is needed for, and when the equipment should be used. 
Failure to provide the correct PPE and enforce its use can result in accidents and illnesses.
3) Cannabis mold and moisture issues
Every marijuana grower knows that excessive moisture can lead to an outbreak of mold that may render the crop unusable and perhaps spread disease throughout the operation. 
Marijuana mold issues can affect worker health, as well, maybe even long before the mold is discovered.
It is crucial that humidity levels be monitored and environmental samples taken at regular intervals. Environmental health and safety experts teach cannabis operation managers how to set up and maintain a mold and moisture prevention program.
4) Cannabis employee ergonomics
It's easy for employers to miss the importance of ergonomics for worker safety, since the effects of poor ergonomics are often either considered "part of the job" or don't immediately identify themselves as injuries.
Occupational health specialists can help cannabis operations managers learn how to configure workstations, tools, and the workplace to enhance worker health and safety. 
Attention to cannabis facility ergonomics can help reduce repetitive motion injuries, cut back on lost time due to injuries, and can even help improve worker productivity.
5) Cannabis industry contaminant control using local exhaust ventilation
Controlling contaminants with local exhaust ventilation is critical in cannabis processing and manufacturing operations. Mold spores, dust from plant debris, pesticide residue, carbon dioxide, and carbon monoxide levels — these and other contaminants can render the environment hazardous to human health.
Air quality evaluation and monitoring is an issue that almost always requires assistance from an occupational health professional. Trying to detect airborne threats to health with your nose alone is not always the best solution. 
Special instruments are necessary to determine and monitor air quality to determine employee exposure. In addition, it is often beneficial to obtain this information from a third-party service provider like FACS Certified Industrial Hygienists (CIH).
6) Cannabis illness and injury prevention programs 
Most California businesses are aware of the need for developing an Illness and Injury Prevention Program (IIPP). More citations are issued yearly by Cal/OSHA for IIPP violations than for any other type of job-related infraction. 
Many times, citations are issued not because the company chooses to ignore worker safety, but because management isn't sure of how to prepare and properly implement an IIPP.
Other states have laws similar to the California mandate: 
Colorado provides a

reduction of state workers' compensation

premiums for companies that adopt IIPP components

Washington has required an

Accident Prevention Plan

since 1973

The

Oregon Safe Employment Act

has been in effect since 1972
Check OSHA for an overview of IIPP-type requirements across the nation.
What Should a Cannabis Management Team Know About Worker Health and Safety?
Employee protection is an issue well established in local, state, and federal law. The legalized cultivation of marijuana and the production of associated products is not yet well established. 
Once legislation gave the green light, cannabis production boomed — leaving regulators scrambling to set up inspection parameters and develop staff resources equal to the job. That means there's a time-lapse between legalization and enforcement of regulation — but it's a lapse that won't last forever.
Cannabis growers and processors now enjoying the relative lack of regulatory interference with their activities should be getting prepared — right now — for the sure-to-come regular visits by inspection and enforcement personnel.
Tax collection, licensing, Food and Drug Administration concerns … all are important. However, protecting the health and well-being of your most important asset, your employees, should be the highest on the priority list. 
FACS provides cannabis facility owners and managers the same information we give to regulators when we are asked to advise them on health and safety best practices, and that advice centers on the six concerns listed above. 
To find out more, contact FACS online or call 888-711-9998.
Don't wait. If your business grows, processes, or manufactures cannabis products, the clock is ticking. And it may well be that the companies able to achieve long-term success with marijuana as a crop will be the ones who look far enough ahead to realize the importance of taking the bevy of official requirements and worker safety programs seriously. 
Those regulations aren't going to go away, and worker safety should be at the top of every concern.