California multifamily property owners have until January 1, 2025 to complete the first inspection required under SB 721. That bill requires all exterior elevated elements (EEE) be examined for safety. Elements affected are those designed for human use that have a walking surface elevated more than six feet above ground and are constructed of load-bearing components made of wood or wood-based products. Examples are porches, decks, stairways, and balconies. Ongoing inspections will be required every six years.
SB 721 passed the California State Senate in September of 2018 in response to the tragic 2015 incident that took the lives of six UC Berkeley students and injured seven others. Dry rot was deemed the cause of the collapse, not excessive weight from overcrowding the space.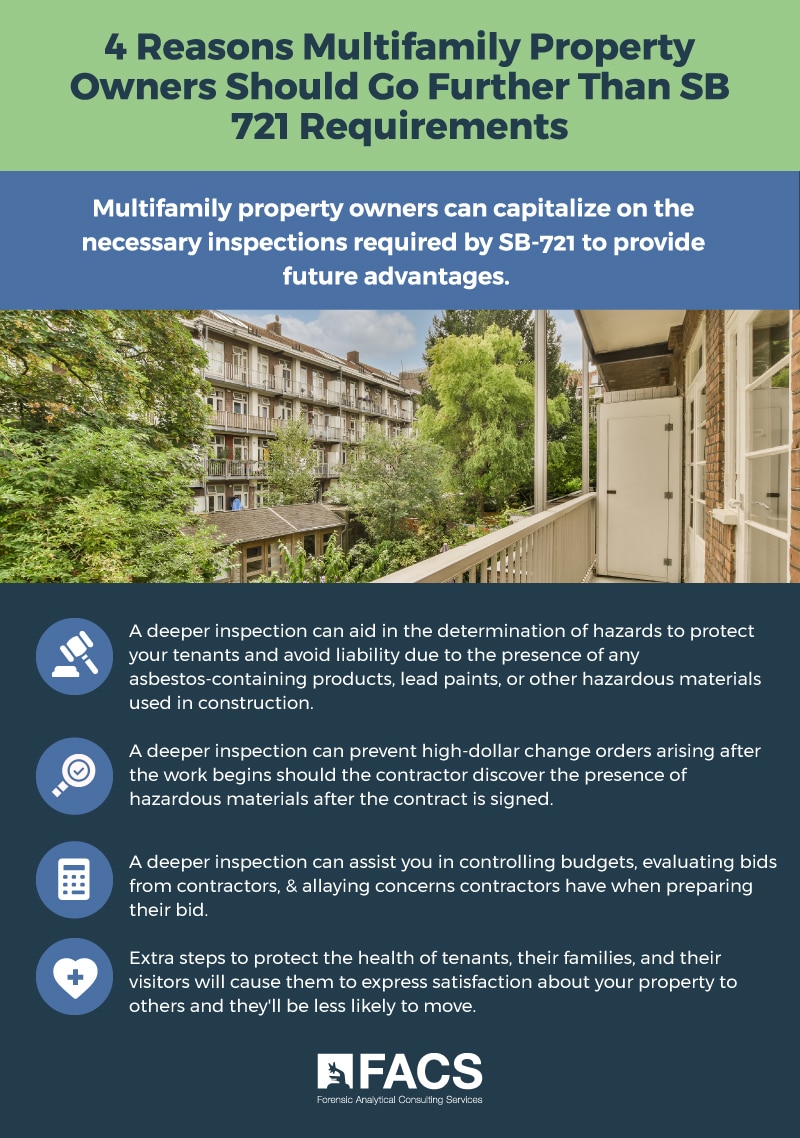 While property owners seldom appreciate extra maintenance expenses, compliance with SB 721 can help prevent legal entanglement and provide a safer environment for tenants and their guests. FACS believes the required inspection can also be leveraged to reduce the outlay required for other types of hazards and repairs.
Reasons Why Multifamily Property Owners Should Go Further Than SB 721 Requires
Multifamily property owners can capitalize on the necessary inspections required by SB 721 to provide future advantages. That's why FACS recommends that you go deeper than simple compliance with the law.
A deeper inspection can aid in the determination of hazards to protect your tenants and avoid liability due to the presence of any asbestos-containing products, lead paints, or other hazardous materials used in construction. Despite the common belief that asbestos is no longer in use, the fact is that asbestos is still allowed in some construction products.
A deeper inspection will alert owners to any potential hazards that exist prior to any future work on the structure. That knowledge can prevent high-dollar change orders arising after the work begins should the contractor discover the presence of hazardous materials after the contract is signed.
A deeper inspection can assist you in controlling budgets and evaluating bids from contractors. Providing documented evidence showing the existence or absence of hazardous materials allows you to remove a potential concern contractors have when preparing their bid.
A deeper inspection shows your tenants that you are taking extra steps to protect the health of them, their families, and their visitors. Tenants who feel you are concerned about their well-being are more likely to express satisfaction about your property to others and are less likely to move.
Since you must obtain clearance that your structure is sound under the requirements of SB 721, why not go further during that inspection to identify other potential hazards and gain more from the process than the law requires?
FACS Can Help Multifamily Property Owners Benefit From the SB 721 Inspection Requirement
The owners of the Berkeley apartment complex settled out of court for an undisclosed amount, as is often the case for similar incidents. SB 721 compliance will help prevent similar tragedies and the resultant impact on multifamily properties in California. For every deck collapse, though, there are many cases where hazardous material exposure is the primary issue. Lawsuits claiming the owner was negligent for not identifying and correcting those problems are commonplace.
The FACS stance is that owners can tackle both threats at the same time by obtaining a more complete survey that not only addresses structural integrity, but also identifies hazardous building materials that can negatively impact the health of residents and workers in the future.
FACS experts can perform surveys of project areas and consult with multifamily property owners concerning work either already planned or that will someday be necessary. Even projects as seemingly simple as repainting a deck can be affected by the presence of hazardous materials and end up costing the owner much more than originally estimated. Smart owners will get samples beyond the focus of the necessary inspection mandated by SB 721. Arranging for an extended inspection will leave them better prepared in the long run.
FACS teams are ready to assist you with SB 721 compliance and how to gain the most protection for you and your tenants from the required inspection. Call us at (888) 711-9998 to find out how we can help you navigate this urgent and serious issue.