Beginning July 1, 2019, property owners, demolition contractors, real estate developers, and anyone planning to demolish a structure built or remodeled between January 1, 1950 and December 31, 1980 in the San Francisco Bay Area will face stringent new permit requirements aimed at reducing the amount of polychlorinated biphenyls (PCBs) entering San Francisco Bay.
These new regulations affect demolition activities involving structures built during that period (excepting wood frame buildings and single-family residential homes) in Alameda, Contra Costa, San Mateo, and Santa Clara counties, as well as the cities of Vallejo, Fairfield, and Suisun City.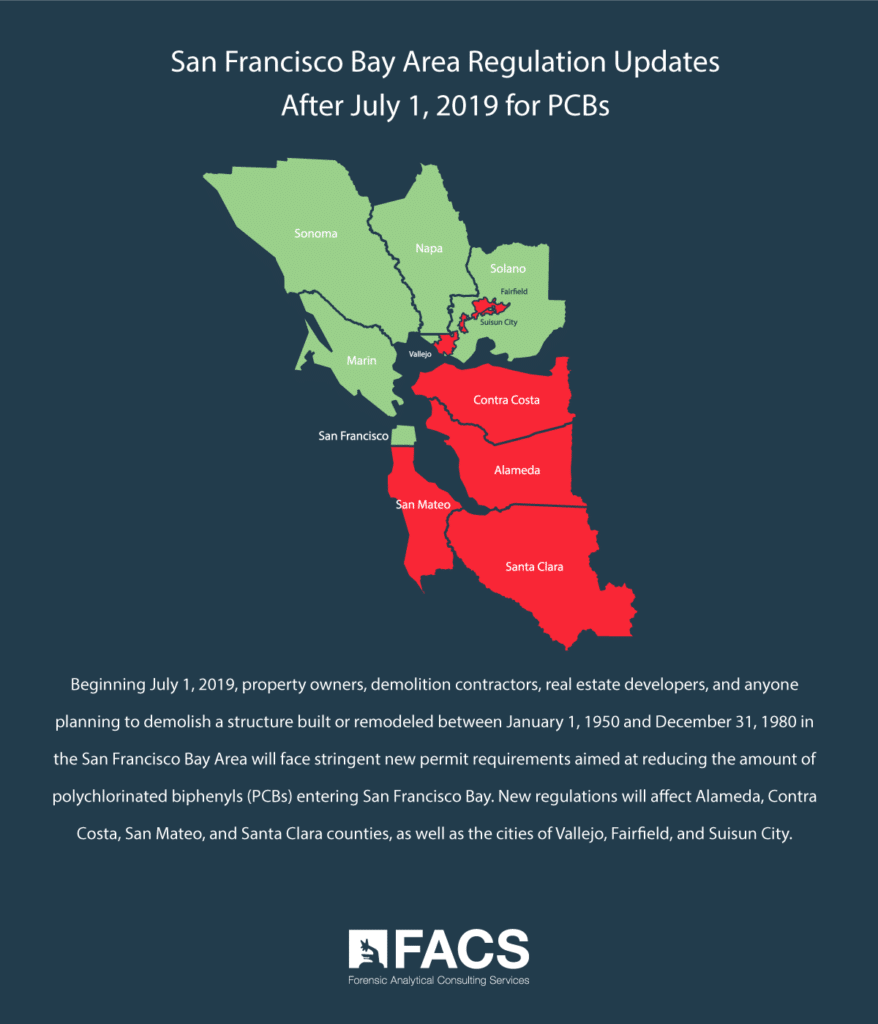 In this article, we'll describe these new requirements and help you understand how to comply with them. This is a case where proactivity and giving yourself plenty of lead time can prevent cost overruns and headaches in construction scheduling.
What are PCBs and why should I care about them?
Polychlorinated biphenyls are a broad class of man-made organic chemicals commonly used in components of electrical equipment, hydraulic systems and in building materials prior to 1981. Desirable properties of PCBs include elasticity, low flammability, persistence, and a high dielectric constant. The chemicals were produced by the Monsanto Company and marketed chiefly under the "Aroclor" trade name from 1935 to 1977.
Despite their popularity in construction and industrial applications, though, PCBs are harmful to humans and the environment. The Toxic Substances Control Act of 1976 began the clamp-down on PCBs, and manufacturing was finally banned in 1979.
These new requirements are aimed at controlling the unplanned release of PCB-containing building materials during the demolition of structures built before regulations prohibiting PCBs were established.
What products are most likely to contain PCBs?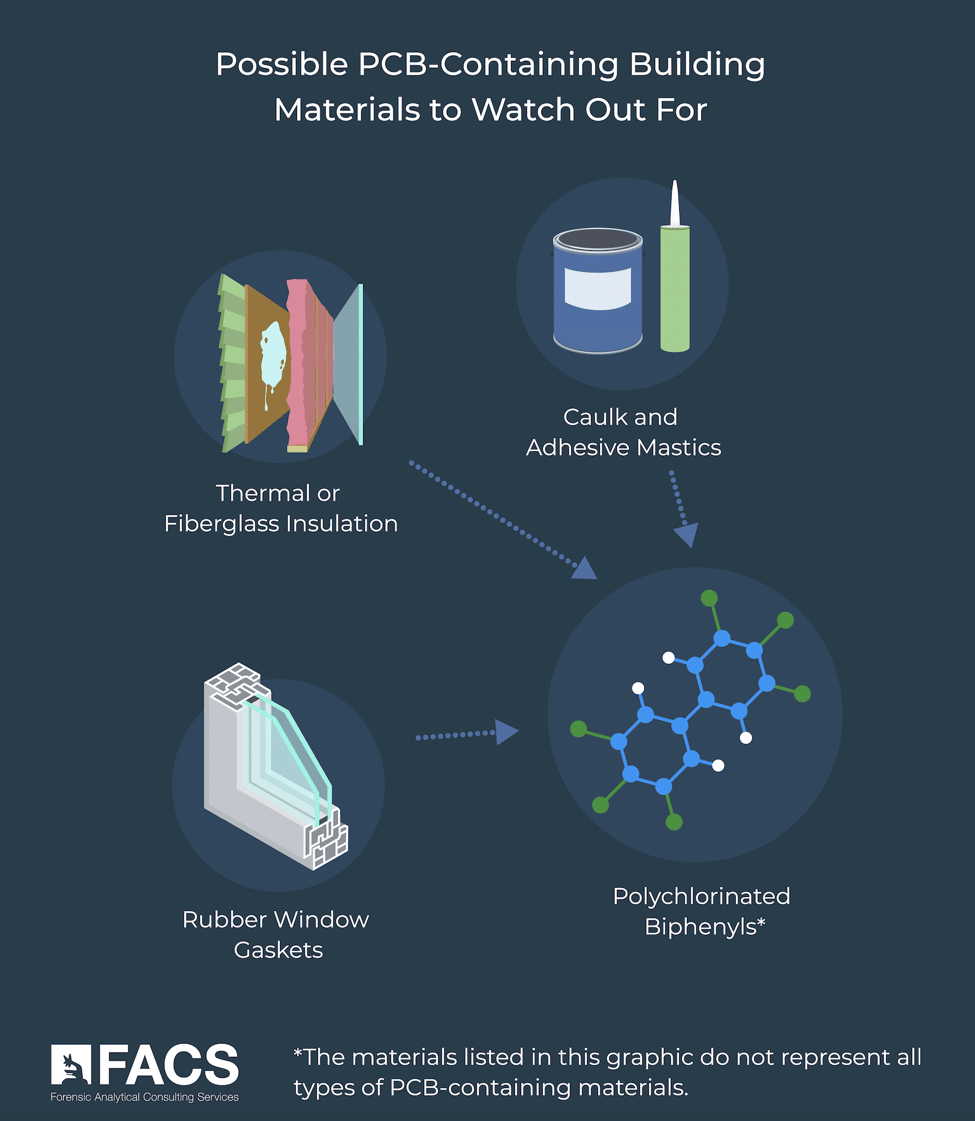 Here's a short list of products and materials from the pre-1981 era that are likely to contain prohibited concentrations of PCBs:
Fluorescent light ballasts
Transformers and capacitors
Cable insulation
Caulking, mastics/adhesives, and window gaskets
Thermal system insulation
Roofing materials
Floor finishes and paints
Current regulations require the proper disposal of PCB hazardous waste, but many PCB-containing building materials still go unidentified. Caulking installed between 1950 and 1979, for instance, could contain up to 40 percent PCBs.
Another problem is that PCB migration into adjacent substrates (e.g. wooden frames or masonry) is common. Painted surfaces can also absorb PCBs. These and other secondary sources of contamination make discovery and cleanup considerably more complex than simply screening for common hazards.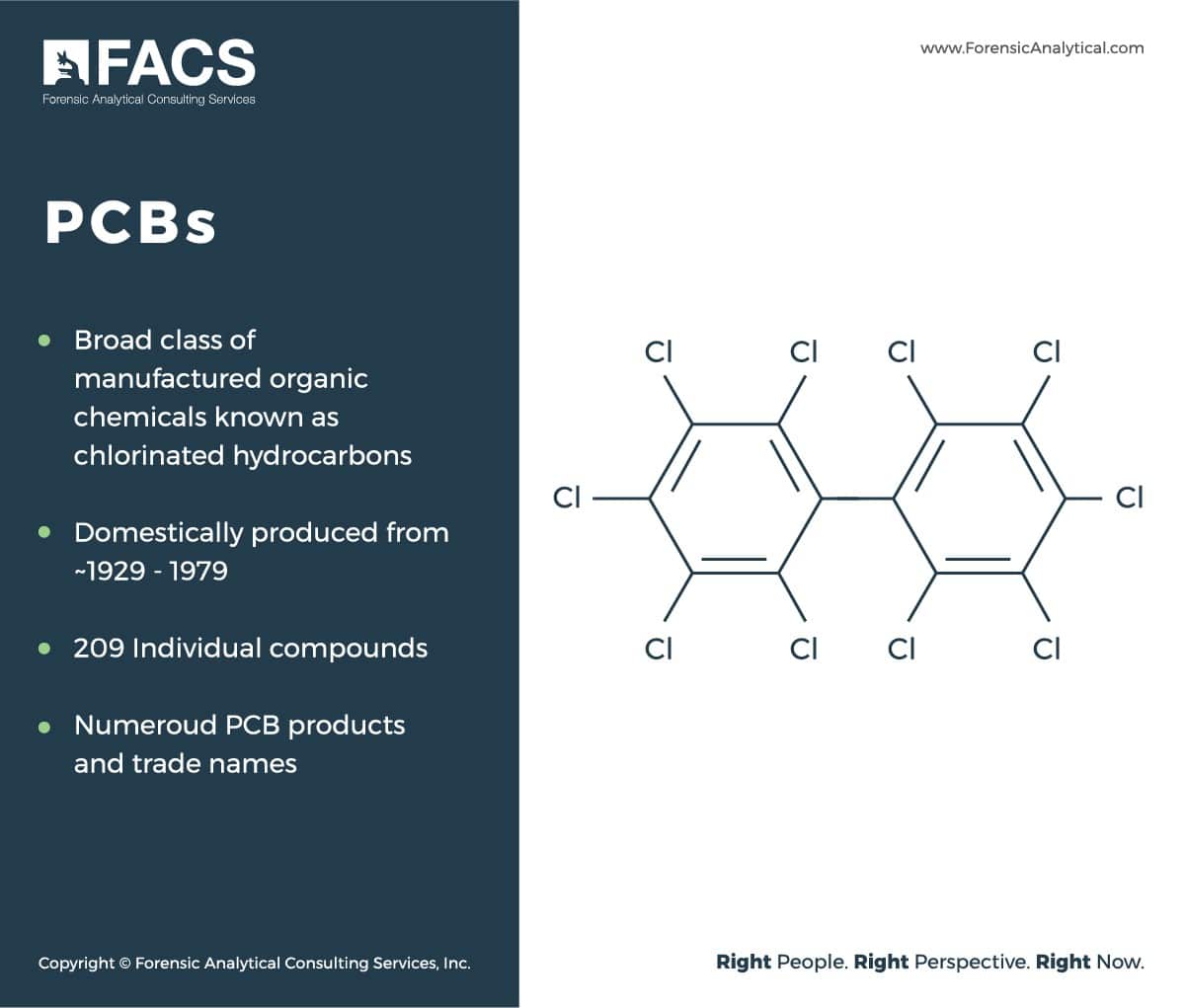 Why are these new PCB regulations focused on the San Francisco Bay area?
In 1994, the California Office of Environmental Health Hazard Assessment (OEHHA) issued a health advisory concerning the consumption of certain species of fish taken from San Francisco Bay. This action followed a State and Regional Water Boards study showing excessive levels of contamination by mercury, PCBs, and other chemicals.
In the years since that action, additional research has heightened the concern over the health of the Bay. A 2006 report prepared for the Clean Estuary Partnership said this:
San Francisco Bay is facing a legacy of polychlorinated biphenyls (PCBs) spread widely across the land surface of the watershed, mixed deep into the sediment of the Bay, and contaminating the Bay food web to a degree that poses health risks to humans and wildlife. In response to this persistent problem, water quality managers are establishing a PCB total maximum daily load (TMDL) and implementation plan to accelerate the recovery of the Bay from decades of PCB contamination.
Members of the Bay Area Stormwater Management Agencies Association (BASMAA) collaborated on a series of pilot studies conducted between 2012 and 2016. Deemed the Clean Watersheds for a Clean Bay (CW4CB), the project sought to evaluate the effectiveness of current stormwater controls and develop a regional strategy to reduce the level of PCBs and mercury in urban runoff affecting water quality in San Francisco Bay.
It is thought that stormwater runoff is a significant source of Bay pollution and that the primary source of PCBs in the runoff is related to PCB-containing building materials that are not properly identified and managed.
The focus is on stormwater because those drains often tie directly into creeks that empty into the Bay without undergoing treatment or filtering.
NOTE: This article focuses on the new requirements affecting demolition activities in the San Francisco Bay area. None of these developments, though, change the Cal/OSHA or federal regulations already in place.
Be sure your activities are in compliance with the Toxic Substances Control Act, the Resource Conservation and Recovery Act, and other regulations governing the discovery and handling of PCB-containing materials.
For help understanding those requirements, call FACS at (888) 711-9998.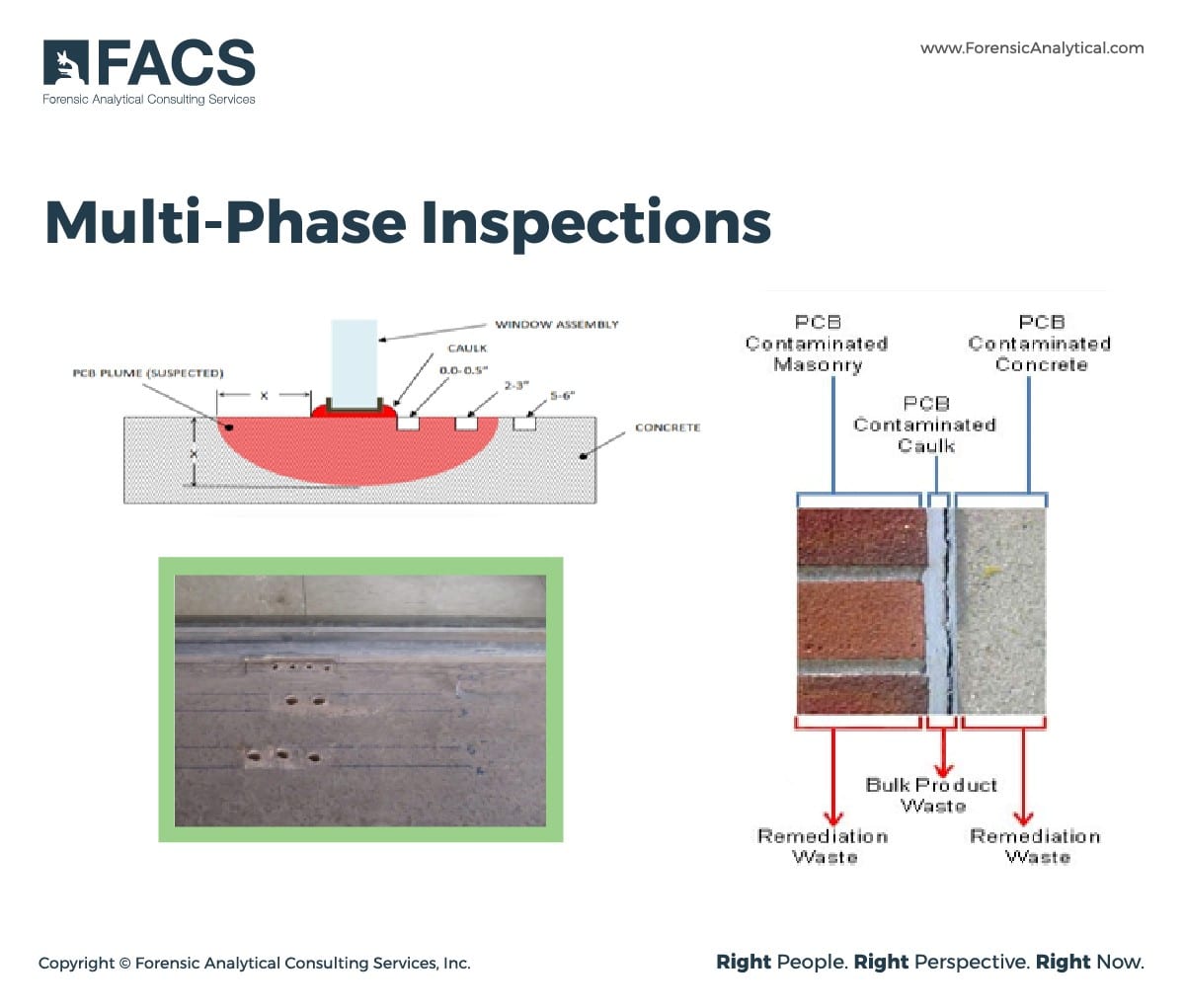 What do the new regulations stipulate?
Because building demolition is a major contributor to PCBs in stormwater runoff, the BASMAA guidelines for municipalities focus on three areas:
Identify high-priority PCB-containing building materials
Develop a protocol for abating the PCB hazard during demolition
Suggest changes to the demolition permit process
Here's a summary of key definitions and points to be aware of from those guidelines:
"Demolition" means the wrecking, razing, or tearing down of any structure
"Priority Building Materials" include caulking, thermal/fiberglass insulation, adhesive/mastic, and rubber gaskets for windows
"Remodel" means to make significant finish and/or structural changes that increase utility and appeal through complete replacement and/or expansion
Applicable structures are buildings constructed or remodeled from January 1, 1950 to December 31, 1980
Exemptions are applications for remodeling, partial building, wood framed structure, and single-family residence demolition projects
Compliance requirement: Every Applicant for a building demolition permit shall conduct a PCBs in Priority Building Materials Screening Assessment
If PCBs are found during the initial screening, additional testing of substrates and a report of findings to the EPA may be required.
What Is the PCBs in Priority Building Materials Screening Assessment?
Under the new demolition permit process, every Applicant must conduct a PCBs in Priority Building Materials Screening Assessment and submit the findings as part of the building demolition permit application.
In addition to general information about the project, the assessment must determine the following:
Is the building proposed for demolition considered high priority for PCBs-containing building materials based on the structure age, use, and construction?
If it is a high-priority building, what are the concentrations of PCBs in each Priority Building Material present?
For each Priority Building Material present with a PCBs concentration equal to or greater than 50 ppm, what is the approximate amount (linear feet or square feet) of that material in the building being considered for demolition?
The Applicant is responsible for safe and legal compliance with all requirements. Failure to submit the assessment or providing false information in the assessment will result in significant fees and penalties.
What steps should I take if a building demolition will be required for my construction project in the San Francisco Bay area?
Because FACS is a leader in working through issues with the EPA, BASMAA invited FACS to participate in the strategic advisory group during the development of the new PCB guidelines. We had a seat at the table during consultancy meetings.
Here are our recommendations:
Take this process seriously. Attempting to circumvent it can result in significant penalties and leave you open to legal entanglements.
Get going with the PCB assessment early in the project. That will help you avoid unanticipated costs and delays.
Make sure you hire a company experienced with correctly assessing the project according to the local municipal program and federal EPA regulations. There is no certification program in place, so it's possible for you to contract with someone not qualified to do the work. Saving a few dollars on the front end can cost millions of dollars on the back end. Be careful.
The BASMAA recommendations are concerned with determining, prior to demolition, the degree of PCB threat present at the project site. You'll still need to follow EPA and Cal/OSHA requirements for removing and disposing of building materials to protect employees and the environment.
Here's the first step:
Call FACS at (888) 711-9998.
Don't risk getting this one wrong. Too much is at stake.