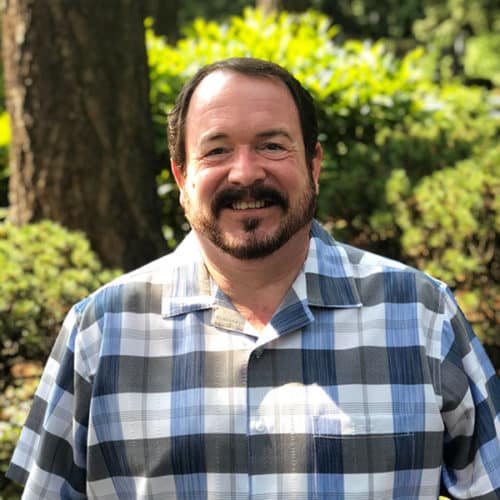 Education
B.S., Public Relations, University of Oregon, 1979
Certfications and Registrations
Licensed Asbestos Abatement Consultant
NIOSH 582 Sampling and Evaluating Airborne Asbestos Dust
Professional Experience
For over 20 years, Russ has worked with multiple regional and national clients and with FACS' technical and operational staff to create, implement and verify programs that effectively manage environmental health concerns. His goal is to address public health issues while striving to manage overall costs, reduce potential liability and provide informed solutions in unique environments.
Russ provides traditional industrial hygiene services and innovative health and safety management programs for building owners, facility managers, construction and engineering professionals, risk management and legal professionals. Having served as the Chief Marketing Officer for 20 years, Russ managed all aspects of FACS' sales and marketing efforts. This position gave Russ a unique perspective when addressing industrial hygiene issues and gave Russ the opportunity to work with many clients across industry sectors ranging from hospitality to healthcare. In addition, Russ has extensive disaster response experience which includes work on many high profile hotels, casinos and commercial properties that were heavily damaged from hurricanes Katrina, Rita and Wilma.
Russ is also an engaging and experienced presenter and regularly speaks at national industry trade groups, seminars and client meetings.
Professional Affiliations & Honors
Risk and Insurance Management Society – Associate Member
Northwest Environmental Business Council – Member
California Hotel Lodging Association
American Hotel Lodging Association
Short Courses/Symposiums
Certificate of Attendance; Microbial Contamination: Sampling, Laboratory, Remediation and Health Issues
Presentations
15th Annual Construction Conference, Willis Insurance, Nashville, TN
Willis Insurance Regional Meetings (Atlantic City, NJ; Bossier City, LA; Las Vegas, NV; Elizabeth, IN; Tunica, MS)
Hospitality Risk Managers National Conference, Moderator, Las Vegas, NV
Annual Meeting, Environmental Concerns – Hospitality Harrah's National Risk Managers, Portland, OR
Skanska Builders, Proactive Construction Risk Assessments in Healthcare, Portland, OR
National Association of Insurance National Convention, Women Reducing Risk Using Science, Orlando, FL
Western Region Microbial Contamination Regional Convention Workshop – The Practice of Industrial Hygiene and its Implication in Toxic Tort, San Diego, CA
Swinerton Builders, Environmental Health and Safety Concerns for General Contractors Lead in Construction