Hospital Construction Project Requires Environmental Monitoring
A hospital construction project required cutting through the exterior walls of the existing structure to tie-in to a new building being erected adjacent to it. FACS was retained to assist with evaluating the project impact on the environment of care, which included monitoring concentrations of airborne particulate matter (PM 10 and PM 2.5).
Key Results
The hospital was able to maintain patient care and continue normal clinical functions without interruption during a major construction project.
The hospital management and staff felt more secure during the construction, knowing FACS was monitoring effects of construction activity around the clock
FACS proved the feasibility of 24/7 environmental monitoring on large-scale construction projects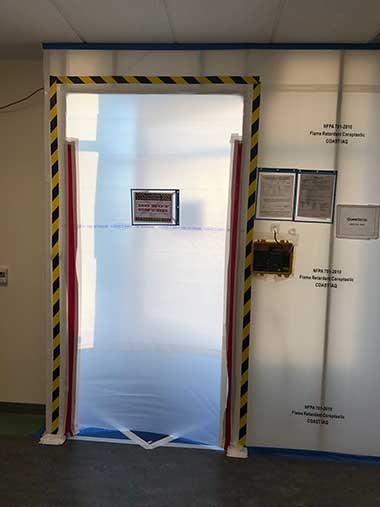 About the Client
This study was conducted at a San Francisco Bay Area hospital undergoing facilities expansion. The client was especially concerned about the effect construction activity might have on patient care and day-to-day hospital operations.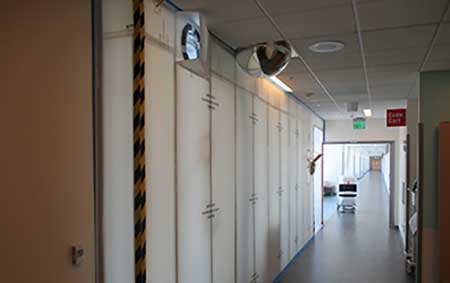 The Problem
Sensor-based monitoring of complex projects is a developing technology. The magnitude of potential inputs/outputs is tremendous. How do you determine which factors to monitor? How do you set alarm points to indicate problems? How do you interpret big data rapidly and accurately to facilitate an around-the-clock awareness of the situation at the site? How do exterior environmental conditions impact the monitoring environment? All of those questions, and more, must be addressed.
Throw in the fact that the monitoring is taking place in a hospital (where patients whose health is already a concern are being treated) and the job becomes even more demanding.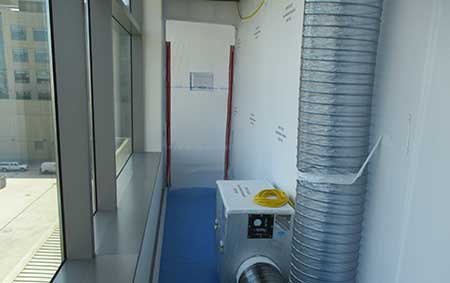 The FACS Solution
FACS has been working steadily with monitoring equipment manufacturers to help them develop alarm algorithms that will deliver reliable, filtered, and targeted data in a way that will provide an ever-present watch over environmental conditions at specific locations.
For this project, the FACS team worked with the construction contractor to ensure negative pressure containment controls were properly installed and maintained. FACS then installed environmental monitoring devices at strategic locations as one method of limiting the project impact on the environment of care.
The on-site team continued to observe the work in progress and take traditional environmental quality measurements with hand-held devices. The off-site team worked to interpret the massive amount of data available to them and develop protocols for future projects. If data indicated elevated particulate concentrations near construction areas (as compared to baseline monitoring, outdoors or indoor control locations) the area was inspected to determine the source of the particulate. If it was determined that the construction project was the source of elevated particulate, changes in engineering controls or work practices were immediately implemented.
Thanks to lessons learned and observations made during this project, FACS moved a giant step forward towards being able to better understand and rely on data collected from sensors for future environmental quality monitoring situations.
Contact FACS today to talk about Indoor Environmental Quality.
We'll be in touch within one business day.
Or call us directly at (888) 711-9998.